Aid groups warn of Yemen 'catastrophe'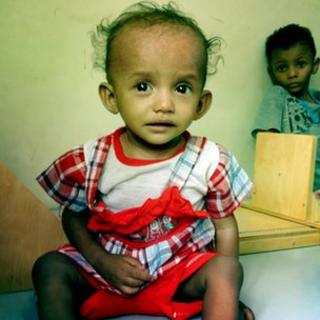 The UN and other aid organisations are making an urgent appeal for funds to help Yemen's hunger crisis. Charities warn that the country is facing a catastrophe, with rising food prices and political crises leaving some 10 million people unable to buy food. The BBC's Natalia Antelava reports from villages around the coastal city of Houdaida.
Talal died around 11 in the morning. He was so thin, his Samira mother says, that his skin had become transparent.
The family didn't have the money to pay for space at a cemetery, and so they buried him by a roadside.
"I loved him so much. He was such a clever boy," Samira weeps.
There was nothing Samira could do to save him. The family survives on bread and water, but by the time she managed to find money to take him to a hospital, it was too late.
Talal, who was four years old, weighed 4kg (9lb) when he died - just above an average newborn in the West.
Help plea
There are no statistics on how many malnourished children are dying in Yemen, but in the Houdaida governorate three in five children suffer from acute malnutrition - that's double the level that constitutes emergency in UN terms.
The UN estimates that 267,000 Yemeni children are facing life-threatening levels of malnutrition and that 10 million Yemenis go to bed hungry.
Samira is now worried about her 10-months-old baby girl, who is so weak that a simple cough she has developed could be lethal.
I ask whether she knows any other people who have lost children.
Samira's neighbour Fatma speaks up from the corner. She has lost two babies, she says, but her two surviving children are with her.
Fatma's two-year-old son is so weak he can't sit up, let alone walk. In her arms is a baby girl whose face is so bony, so wrinkly she looks like an old woman.
Rising global food prices, severe water shortages, local political crises and seriously weakened government are the reasons why Yemen is now facing a massive catastrophe.
It is a crisis that Yemen's government cannot handle on its own, but international community has not been able to help. Donors have pledged money for Yemen but it has not arrived.
"It's as if they think they have all the time in the world, while people here are dying," says one humanitarian worker, who asks to remain unnamed.
"It's been extremely difficult to get attention. This is not as dramatic as for example the situation in Syria, but it is catastrophic," he adds.
All supplies are scarce.
Hundreds of women in black abayas fill the rooms of the Unicef-supported malnutrition centre in the village of Beit Al Fakhi. Cries of hungry children echo through the corridor.
Sweating in the heat, the doctor weighs the babies and throws packets of plumpinut, a special paste designed to treat acute malnutrition, at a mother before he moves to the next child.
But there is not enough of it for everyone.
Turned away
"My baby will die if I don't get some," a mother cries.
The doctor just shakes his head. "I have so many like you," he says.
A two-hour drive away, in the regional hospital in Houdaida, doctors are just as overwhelmed.
One of them tells me that the malnutrition clinic receives about 30 new patients a day, but they do not have enough food or medicine for most of them and many are turned away.
Dr Zareghi says even those children who make it will be scarred for life.
"This sort of malnutrition does a lot of physical and psychological damage. Yemen will be paying the price for a long time to come," he adds.
Another problem is that only a fraction of the children, whose parents can afford transportation, make it to hospitals and malnutrition centers.
A long bumpy ride away from Houdaida, lies the village of al-Jurbeshia, where Oxfam has been giving out allowances to people in need.
Oxfam has chosen to give cash because there is plenty of food in local markets, but people simply do not have the money to buy it.
"Cash allows people to spend as they chose, whether it's on food or medicine, or many of them accumulate debt at local stores and use this money to repay part of it, which enables them to keep borrowing," says Oxfam media officer Caroline Gluck.
Because of the shortage of funds Oxfam is currently giving cash to only about 100,000 people. That's about 10% of people they would like to target and even a smaller fraction of those in need.
Nadya is not on anybody's list. Curled up in her fathers' arms she is tiny, her eyes look huge on her bony face, her stomach's bloated.
She needs urgent treatment, her father says, but he doesn't have the money to take her to hospital. He has come to Oxfam for help - but the humanitarian agency cannot help him.
"Its heartbreaking, and it makes me incredibly sad, but we can only help those we have on the list," says Caroline Gluck.
"Maybe in the future - when the donors give us more money," she adds.
The problem is that Nadya, like so many other children here, may have no future.