Jewry mourn leading Israeli rabbi, Yosef Shalom Elyashiv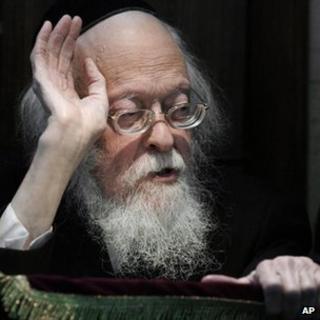 Tributes have been paid to Rabbi Yosef Shalom Elyashiv, a highly influential spiritual leader of ultra-Orthodox Judaism.
He died at a hospital in Jerusalem on Wednesday after a long illness.
Rabbi Elyashiv was widely recognised as a top rabbinic authority and was known for his rulings on complicated areas of Jewish law.
He belonged to a Lithuanian sect of ultra-Orthodox Ashkenazi Jews who lead strict religious lifestyles.
His death was announced on Israeli television and radio stations. Within a few hours, about 300,000 mourners turned out for his funeral, police said, which took place at Givat Shaul cemetery in Jerusalem.
Israeli Prime Minister Benjamin Netanyahu said: "In his rulings, Rabbi Elyashiv left a deep mark on the ultra-Orthodox world and on the entire people of Israel.
"The rabbi's way was that of love of the Torah and love of man, humility and the protection of the sanctity of life."
Condolences also came from the President, Shimon Peres, the mayor of Jerusalem and Israel's two chief rabbis.
Modest ways
A few words from the rabbi could have a huge impact on the daily lives of devout Jews around the world.
He also advised a small ultra-Orthodox party in the Israeli Knesset, Degel Hatorah, which later became part of United Torah Judaism, an important grouping of religious parties.
Rabbi Elyashiv lived a humble lifestyle, continuing to reside in a tiny apartment in Jerusalem despite the large number of visitors he received for blessings and to question him on aspects of Jewish law.
He had unusual authority, in that many of his rulings were accepted by the different Jewish sects.
However he was not afraid to court controversy. He was opposed to ultra-Orthodox Jews serving in the Israeli military or pursuing secular studies.
The rabbi also said that Jews should not visit Temple Mount in Jerusalem, where the second Jewish temple was destroyed by Romans in 70 AD. He suggested that Jews were not ritually pure enough to set foot there today and that visits could cause bloodshed since al-Aqsa mosque, the third most holy site in Islam, was built in the same location.
Born in 1910 in Lithuania, Elyashiv had emigrated to British Mandate Palestine in 1924 and settled in Jerusalem's ultra-Orthodox Mea Shearim neighbourhood. He became a rabbi four years later.
He served as a judge in Israel's Chief Rabbinate until 1974.
In 2001, he became head of the Council of Torah Sages, the top policy-making body for ultra-Orthodox Ashkenazi Jews.
The rabbi, who had 12 children, is said to have attributed his long life to the fact he did not allow himself to get angry.