Second Israeli dies after self-immolation protest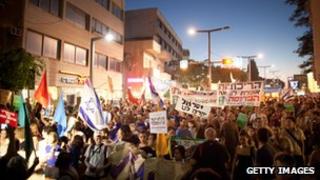 A second disabled Israeli war veteran has died of his wounds, 10 days after setting himself on fire near Tel Aviv, hospital officials say.
Wheelchair user Akiva Mafi doused his body in petrol at a bus stop in protest over welfare cuts and living costs.
The 45-year-old is the second victim to have died from self-immolation in recent weeks in Israel.
Moshe Silman set himself alight during a mass demonstration on 14 July against the country's spiralling living costs.
He was the first Israeli to take such an extreme step to protest social injustice and financial hardship.
A spokesperson for Tel HaShomer hospital said Mr Mafi had died of severe injuries sustained after he set himself on fire on 22 July.
Passers-by had managed to put out the flames but Mr Mafi suffered burns to 80% of his body.
'Give to the rich'
The incident comes just a few days after the nation was rocked by the death of Mr Silman, 57.
Mr Silman, who was heavily in debt, had left a note accusing the Israeli establishment of "taking from the poor to give to the rich".
His case has produced an outpouring of emotion in Israel, with more than 1,000 people holding vigils.
Mr Mafi's death is likely to increase already widespread anger over new austerity measures to cut the budget deficit and avoid an economic crisis.
The mass protests started last summer when hundreds of thousands took part in some of the biggest rallies Israel has ever seen.