Netanyahu says US warnings not enough to stop Iran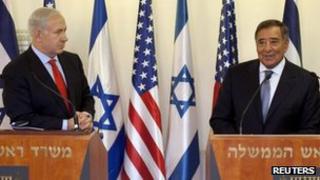 Israeli Prime Minister Benjamin Netanyahu has said US assurances about military options are not enough to stop Iran from developing nuclear weapons.
Mr Netanyahu said the Iranians believe the international community "does not have the will" to stop Iran.
He spoke after visiting US Defence Secretary Leon Panetta reiterated Washington's line that military action was an option against Iran.
Iran maintains that its nuclear programme is for civilian energy uses.
"Right now the Iranian regime believes that the international community does not have the will to stop its nuclear programme," Mr Netanyahu said at the prime minister's residence in Jerusalem.
He told the Pentagon chief: "You yourself said a few months ago that when all else fails, America will act. But these declarations have also not yet convinced the Iranians to stop their programme.
"This must change, and it must change quickly because time to resolve this issue peacefully is running out."
On Tuesday, US President Barack Obama ordered new economic sanctions against Iran's energy sector and some financial firms.
Earlier on Wednesday, Mr Panetta toured Israel's "Iron Dome" rocket defence shield south of Tel Aviv with Israeli Defence Minister Ehud Barak.
Mr Barak also said he thought there was an "extremely low" probability that international economic sanctions would prove enough to stop Iran.
Mr Panetta said repeatedly on Wednesday that "all options" including military force were on the table to stop Iran, should sanctions and diplomacy fail.
But he also said: "[Israel's] effort to decide what is in their national security interest is something that must be left up to the Israelis."
The US has cautioned Israel against taking unilateral action against Iran, and Israel's current army chief has expressed reservations.
Speaking to an Israeli television station on Tuesday, Mr Netanyahu hinted that Israel might act alone despite American misgivings.
"With our very existence, we do not put our faith in the hands of others, even our best of friends," he said.
The visit by Mr Panetta comes as the Obama administration announced $70m (£45m) in new military aid to help Israel expand its Iron Dome system.
Presidential challenger Mitt Romney visited Israeli at the weekend and met top officials. He has accused the Obama administration of not being supportive enough of Israel.