Egypt's Brotherhood accused of trying to control media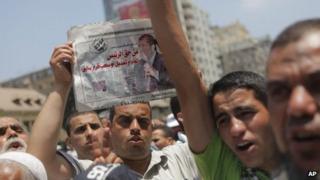 The Muslim Brotherhood, Egypt's powerful Islamist movement, has been accused of attempting to seize control of state-owned media and silence dissent.
While attention has been focused on the battle for power between the military and President Mohammed Mursi - a member of the Brotherhood - a series of moves have allowed the group to gain influence over media policy and appointments, and seen a private TV network taken off air and the print-run of a critical newspaper confiscated.
Some commentators have gone so far as saying that Mr Mursi and the Brotherhood are now resorting to tactics employed to great effect by former President Hosni Mubarak and his National Democratic Party.
Editorial influence
Since Mr Mubarak was forced to step down by a popular uprising in February 2011, the Brotherhood has consistently accused state media outlets of adopting a hostile line towards it.
Some members recently claimed that state-owned media were seeking to undermine the new president, who resigned as chairman of the Islamist group's Freedom and Justice Party (FJP) when he took office.
For this reason, the appointment of Salah Abdul Maqsoud, a Brotherhood member, as information minister earlier this month has been viewed as an attempt to wrest control of state media from supporters of Mubarak and the military, which assumed presidential powers after his resignation.
Mr Abdul Maqsoud acted as a spokesman for Mr Mursi during his election campaign, and was a senior figure in the Egyptian Journalists' Syndicate.
His appointment at the information ministry, which controls the editorial line of all state TV channels, has disappointed many who hoped the ministry would be abolished and an independent media regulator established instead.
Selection committee
Mr Abdul Maqsoud's appointment came at a time when the Brotherhood was already being accused of trying to control state-owned newspapers.
Under Hosni Mubarak, the editors-in-chief of state-owned papers were directly appointed by the chairman of the upper house of parliament, the Shura Council, who was also head of the Supreme Council of the Press.
For many, loyalty to the regime was an essential, if unstated, requirement for applicants.
The current Shura Council, controlled by Islamists from the FJP and the ultraconservative Salafist Nour party, decided to change the way editors-in-chief were appointed.
New criteria for applicants were introduced, and a selection committee, chaired by someone affiliated to the Brotherhood, was established. Many complained that the Islamist-dominated committee would only offer posts to loyalists.
Despite a wave of protests by journalists and a number of lawsuits seeking to overturn the changes, the selection committee chose new editors for state-owned newspapers on 8 August.
Although none are members of the Brotherhood, the new editors have been described by some journalists as being loyal to the group.
In protest at the measure, some newspaper columnists left the spaces allocated for their pieces blank on 9 August.
Lawsuits
A number of other developments have been interpreted as attempts by the Brotherhood to suppress opposition voices.
A court order saw the 11 August edition of the privately-owned newspaper al-Dustour, which has been critical of Mr Mursi and his group, seized over allegations that it had insulted the president and instigated sectarian discord.
The move came after several individuals filed lawsuits accusing al-Dustour of "fuelling sedition" and "harming the president through phrases and wording punishable by law", according to Egypt's official news agency, Mena.
An editorial in the confiscated copies of al-Dustour had warned of a Brotherhood "emirate" taking over Egypt and called on Egyptians to join the military's fight against Islamism.
Several days earlier, the privately-owned TV station al-Faraeen was ordered off the air for a month and warned that its broadcast licence could be cancelled after it was alleged that Tawfiq Ukasha, its owner and leading presenter, had called for the overthrow of Mr Mursi. Mr Ukasha is a fierce critic of the Brotherhood and supporter of the military.
Al-Faraeen went off air shortly after the new Investment Minister Osama Salih, whose ministry regulates the licensing of private TV stations, reportedly warned all channels not to broadcast "rumours" or "false news" under the pretext of improving the investment climate.
Then on 13 August, Egypt's Public Prosecutor, Abdul Majid Mahmoud, ordered that Mr Ukasha and the editor-in-chief of al-Dustour, Islam Afifi, be tried at the Cairo Criminal Court for incitement.
It remains to be seen how all these developments will affect the future of state-owned media in Egypt in real terms.
BBC Monitoring selects and translates news from radio, television, press, news agencies and the internet from 150 countries in more than 70 languages. It is based in Caversham, UK, and has several bureaux abroad. For more reports from BBC Monitoring,click here