Syria activists 'find 60 bodies in Damascus suburb'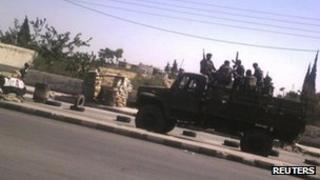 At least 60 bodies have been found in a suburb of Damascus, activists say, following what the opposition described as a "massacre" by government forces.
A poor-quality video posted online showed what appeared to be the charred remains of dozens of people, many with their hands tied behind their backs.
Activists said the bodies were found on Thursday at a rubbish dump outside Qatana, south-west of the capital.
The discovery came as the UN announced the formal end of its observer mission.
The current president of the UN Security Council, Gerard Araud, said the conditions required to extend the mission's mandate beyond midnight on Sunday - a halt to the government's use of heavy weapons and a significant reduction in violence - had not been met.
Kidnappings
Mr Araud also said the Security Council had agreed to back UN Secretary General Ban Ki-moon's proposal for a liaison office in Syria to support further efforts to end the conflict, which activists say has left at least 21,000 people dead since March 2011.
Russia's permanent representative, Vitaly Churkin, said that in New York on Friday the five permanent members of the Security Council would meet key regional players and international organisations, who agreed on guidelines for a political transition in Geneva in June as part of the so-called Action Group for Syria.
He said he wanted them to make a "joint or parallel appeal to all the parties of the Syrian conflict that they end violence as soon as possible".
Mr Churkin said the appeal should urge both sides to appoint representatives to "negotiate towards a political solution, and in particular towards the establishment of a transitional governing body as provided for in the Geneva document".
As he spoke on Thursday, activists said an estimated 200 people were killed across Syria, as clashes between troops and rebels continued.
The death toll included the 60 reportedly found at Qatana. Activists said they were still trying to find out who the victims in Qatana were and what happened.
They believed government forces had executed the victims before setting their bodies alight, they said.
It is impossible to verify the activists' reports of the alleged massacre, as international media cannot report freely in Syria.
Meanwhile, the wave of kidnappings in Lebanon related to the conflict has continued with reports that two more people have been abducted.
It comes the day after a Shia Muslim clan that had seized a number of Syrian Sunni Muslims and a Turkish citizen said that it would not kidnap any more people.
The Mekdads said they had nothing to do with the new kidnappings, but they are still holding several hostages to try to force the release of one of its family members captured by Syrian rebels in Damascus.