Israel PM condemns security cabinet leak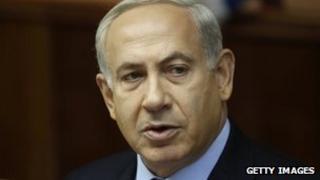 Israeli Prime Minister Benjamin Netanyahu has abandoned a meeting of top security officials after details were leaked to the media.
Mr Netanyahu described the leak as very serious, and said those responsible had violated "the most basic trust".
One minister said the security cabinet should face lie-detector tests.
Earlier, a newspaper said there had been a dispute between Israel's intelligence chiefs over how successful a military strike on Iran might be.
"There is currently a disagreement about the point at which Israel's ability to damage the Iranian nuclear programme loses its effectiveness," Yedioth Ahronoth said.
The security cabinet was also briefed by the heads of the Mossad intelligence agency and Shin Bet internal security service about sanctions which had "yet to be used on the Iranians, such as a trade embargo and a flight ban, which in Israel's opinion could lead to a change".
Mr Netanyahu did not mention Iran or the Yedioth article in the statement he issued announcing the meeting, which began on Tuesday and was set to continue on Wednesday, had been cut short.
"I have no complaint against the media; they are doing their job," he said.
"I do have a complaint against whoever violated the most basic trust needed to hold security cabinet discussions on matters about Israel's security, and undermined the ability to hold confidential discussions."
Israel and Western powers believe Iran is seeking to develop nuclear weapons. Tehran insists its nuclear programme is entirely peaceful.