Egypt MP found guilty of nose plastic surgery lie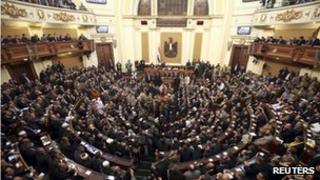 An Egyptian MP who pretended he had been car-jacked to hide the fact he had had plastic surgery has been given a suspended prison sentence, reports say.
Anwar al-Bilkimy, a member of the conservative Islamist al-Nour party, resigned when his deceit emerged.
But an Egyptian court found him guilty of filing a false complaint, forgery and obstruction of justice.
He was given a three-month suspended sentence, according to Egyptian media reports.
A lawyer for Bilkimy, who was not present in court, had asked for him to be acquitted, saying the case was meant to defame his client, said the Al-Misri al-Yawm website.
Bilkimy's former party follows a line of Islam that forbids cosmetic surgery. The Salafist al-Nour party believes it is wrong to interfere with what God has created, and as a result of the case they expelled him.
Bilkimy had originally said the bandages covering his forehead, nose and cheeks were the result of being robbed as he drove on the Cairo to Alexandria road in February.
But his version of events was contradicted by the doctor and other medical staff, who said publicly they had performed a rhinoplasty on him to make his nose smaller.