Eleven killed in Iraq bombings and shootings - officials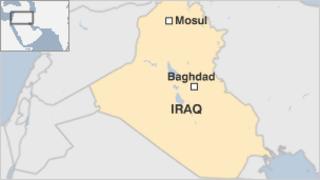 At least 11 people have been killed and about 48 injured in bomb blasts and shootings in Iraq, officials say.
In the deadliest attack, twin bomb explosions killed seven people near a Shia shrine in the capital Baghdad.
Earlier in the day, gunmen opened fire on a police patrol in the capital, killing two police officers.
A prison official was shot dead in another district of Baghdad. In yet another attack, a soldier was killed in the northern city of Mosul.
Although violence has decreased in Iraq since its peak in 2006 and 2007, attacks escalated again after the withdrawal of US troops from the country at the end of last year.
Recent months have seen a string of bombings and other attacks.
In September alone, some 365 people were killed across Iraq, making it the country's deadliest month for more than two years, says the government.
Analysts say insurgents linked to al-Qaeda have been trying to stoke sectarian tensions in an effort to undermine the Shia-dominated government.