Three Westerners kidnapped in Yemen's capital, Sanaa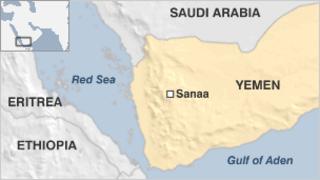 Three Westerners have been kidnapped in the Yemeni capital, Sanaa, security officials say.
One official told Reuters news agency that those kidnapped were an Austrian man and a Finnish couple.
One report said that four masked gunmen had seized the trio at a shop in the city centre.
The identity of the gunmen and their demands are not yet known, although kidnappings of foreigners are common and are usually resolved peacefully.
Tribes have been known to kidnap them as leverage for getting grievances addressed by the government. But militants linked to al-Qaeda have also claimed responsibility for abductions.
"People saw a car stop in Tahrir Square, militants snatching three Westerners and speeding away," the security official told Reuters. "The abductors didn't reveal their affiliation or demands."
The incident came two days after President Abdrabbuh Mansour Hadi reorganised the military to reduce the powers of the family of his predecessor, Ali Abdullah Saleh, who handed over power in November.
The Special Forces and Republic Guard, which were both led by Ahmed Saleh, were brought under the control of the ministry of defence.