US warns Iran over 'nuclear upgrade' escalation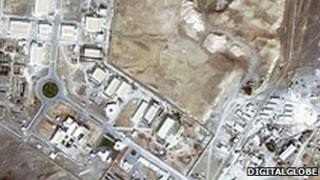 Iran's plans to upgrade its uranium enrichment centrifuges would be a "further escalation" in the nuclear stand-off, the US has warned.
White House spokesman Jay Carney said the move would also be in violation of UN resolutions on the issue.
Iran earlier reportedly told the UN nuclear agency it planned an upgrade at its Natanz plant, which would allow to refine uranium at a faster rate.
The West fears that Iran seeks nuclear weapons - a claim denied by Tehran.
Iran insists its nuclear programme is peaceful.
New talks?
The Iranian plans were set out in a letter to the International Atomic Energy Agency (IAEA) dated 23 January, reports citing diplomats said.
The letter is said to mention a model of centrifuge, called IR2m, which can enrich two or three times faster than the present equipment being used by Tehran, according to the Associated Press news agency.
The IAEA later sent a letter to member states saying Iran had informed the agency of its plans to use the improved machines at its fuel enrichment plant in Natanz, according to a document seen by Reuters.
"The Secretariat of the Agency received a letter from the Atomic Energy Organization of Iran (AEOI) dated 23 January 2013 informing the Agency that 'centrifuge machines type IR2m will be used in Unit A-22' at the Fuel Enrichment Plant (FEP) at Natanz," the IAEA communication is reported to say.
The Natanz facility, in central Iran, is at the heart of the country's dispute with the UN Security Council.
The White House spokesman said that installing more advanced centrifuges at Natanz would "mark yet another provocative step by Iran and will only invite further isolation by the international community".
Meanwhile the European Union's top foreign policy official said on Thursday she believed that negotiations on Iran's nuclear programme would resume shortly.
Catherine Ashton said she was "confident" that there would be a meeting soon.