UN aid reaches Syria rebel-held northern area of Azaz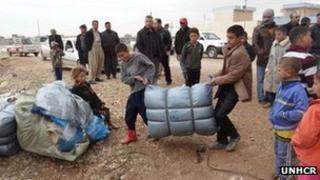 The UN refugee agency has for the first time reached an opposition-held area in northern Syria, saying some 45,000 displaced people there are living in "appalling" conditions.
The UNHCR said many people were staying in makeshift camps, with some sleeping in the open in sub-zero temperatures.
It said it had managed to deliver 15,000 blankets and 3,000 tents.
The operation was only possible because of co-operation between the Syrian government and the opposition.
'Non-political operation'
At a news conference at its headquarters in Geneva, the UNHCR announced it had completed "a first delivery of winter emergency relief" to the Azaz area earlier this week.
It said it was the first such operation in the area - between the city of Aleppo and the Syrian-Turkish border - since the revolt against Syrian President Bashar al-Assad's regime began in March 2011.
"It is increasingly difficult for people to live in that area because of the low temperatures - winter is very severe," Yacoub el-Hillo, the UNHCR director for Middle East and North Africa, told the BBC.
He added that poor hygiene - including the lack of clean water - compounded the problem.
The UNHCR said it had delivered blankets and tents in an eight-truck convoy from an airport near the coastal city of Latakia.
Mr Hillo said that the operation "could not have happened without the Syrian government", which had agreed to issue landing permits for UN planes and also to allow the convoy to proceed to Azaz.
Until now Damascus had refused aid agencies access to the region.
The UNHCR also praised an agreement between the Syrian government and the opposition Syrian National Coalition which made the agency's "strictly humanitarian and non-political operation" possible.
The Syrian Arab Red Crescent had also helped with the logistics of the operation, the UN agency added.