Iran frees jailed ex-prosecutor Saeed Mortazavi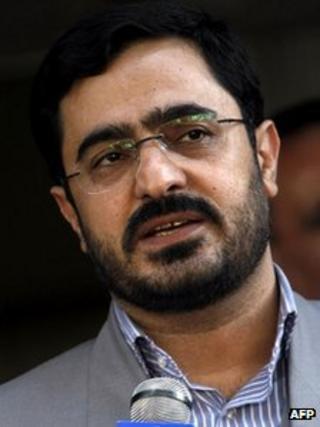 Controversial former Iranian prosecutor Saeed Mortazavi has been released after two days in prison, state media say.
Mr Mortazavi is at the centre of a row between President Mahmoud Ahmadinejad and Iran's influential parliamentary speaker, Ali Larijani.
His arrest and release have not been publicly explained by the authorities.
Mr Mortazavi, a close ally of President Ahmadinejad, has been linked to the death of protesters following Iran's disputed elections in 2009.
He was detained on Monday shortly after a parliamentary session in which President Ahmadinejad accused Mr Larijani and his family of nepotism and corruption - allegations they strongly deny.
The president displayed a video purportedly showing Mr Mortazavi being offered a bribe by Mr Larijani's brother in return for political support.
Power struggle
Mr Ahmadinejad denounced his arrested as "a very ugly action" and promised to pursue the case on his return from a summit in Egypt.
In comments posted on his website, the president accused Mr Larijani of turning Iran's judiciary into "a private family institution".
The apparent power struggle between Mr Ahmadinejad and the parliamentary speaker comes ahead of presidential elections due in June.
Mr Larijani is widely expected to be a candidate to succeed President Ahmadinejad, who cannot stand for another term.
Saeed Mortazavi, 45, was chief prosecutor in the capital Tehran in 2009 when there were big protests against Mr Ahmadinejad's re-election.
In 2010 a parliamentary investigation blamed him for the torture and killing of at least three anti-government protesters.
The US accused him of "sustained and severe violations of human rights" and imposed sanctions on him.
He has also played a central role in shutting down opposition newspapers and has previously faced allegations of corruption.
He went on to be appointed as head of Iran's wealthy social welfare organisation, but was removed in January under pressure from parliament.
Despite this, President Ahmadinejad reappointed him in a caretaker role, further angering his opponents in parliament.
The rift between conservatives and reformists within Iran's political establishment widened after Mr Ahmadinejad's re-election in 2009 and the violent suppression of unrest that followed.
Correspondents say parliament has been hostile to Mr Ahmadinejad for most of his second four-year term.