Iran upgrades uranium enrichment despite US warning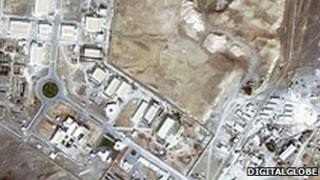 The Iranian atomic energy chief has announced an upgrade to uranium enrichment machines in a move the US has called an "escalation".
New uranium enrichment centrifuges began to be installed at the Natanz site last month, Fereydun Abbasi-Davani was quoted as saying by Iranian media.
Monitors say the new machines could significantly reduce the time needed to make a nuclear bomb.
Iran has long denied its nuclear programme is weapons-related.
A delegation from the UN's nuclear watchdog, the International Atomic Energy Agency (IAEA), is in the Iranian capital, Tehran, for talks on the possibility of new inspections.
At the diplomatic level, Iran is due to resume talks with six world powers in Kazakhstan on 26 February after a gap of eight months.
Tehran welcomed an offer of bilateral negotiations from US Vice-President Joe Biden earlier this month but warned they had to be genuine and "fair".
Mr Biden himself had said Iran needed to be "serious" on the issue.
Isolation warning
The Natanz facility, in central Iran, is at the heart of the country's dispute with the UN Security Council.
"From last month the installation of the new generation of these machines started in [Natanz]," Mr Abbasi-Davani said.
"We have produced the machines as planned and we are carrying out the installation gradually... to complete the tests relevant to the new generation."
According to diplomats, Iran informed the IAEA in a letter on 23 January that it planned to introduce a new model of centrifuge called the IR2m, which can enrich two or three times faster than current equipment.
Gas centrifuges are used to increase the proportion of fissile uranium-235 atoms within uranium. For uranium to work in a nuclear reactor it must be enriched to contain 2-3% uranium-235 while weapons-grade uranium must contain 90% or more u-235.
Israeli Prime Minister Benjamin Netanyahu said on Monday that the new centrifuges could cut by a third the time Iran, one of Israel's fiercest opponents in the Middle East, needed to create a nuclear bomb.
At the end of January, White House spokesman Jay Carney warned an Iranian upgrade would violate UN resolutions and "invite further isolation by the international community".
According to the IAEA, "overall, credible" evidence exists that until 2003, and possibly since then, Iran conducted nuclear weapons research.
The UN watchdog is pressing for access to Parchin, a military base near Tehran where it suspects Iran could have carried out experiments with explosives capable of triggering a nuclear weapon.
However, on Wednesday Mr Abbasi-Davani said a "visit to Parchin or any other site is not on the agenda".
The forthcoming talks in Kazakhstan involve the so-called P5+1 group - UN Security Council permanent members the UK, China, France, Russia and the US, plus Germany.