Israel ex-foreign minister Avigdor Lieberman on trial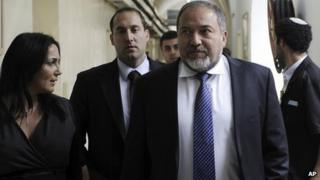 The trial of Israel's former foreign minister, Avigdor Lieberman, on charges of fraud and breach of trust has begun in Jerusalem.
The charges relate to his alleged involvement in the promotion of Israel's former ambassador to Belarus.
Mr Lieberman, who stepped down after the charges were filed in January, pleaded not guilty on all counts.
He heads the Yisrael Beitenu party, which ran on a list with Likud to win last month's elections narrowly.
However, the list only won 31 seats in the 120-strong Knesset, and Likud's leader, Prime Minister Benjamin Netanyahu, is currently trying to forge a workable coalition.
The BBC's Yolande Knell says this trial could determine Mr Lieberman's future in politics.
Outspoken
Prosecutors allege the politician intervened to promote Zeev Ben Aryeh, the former ambassador to Belarus, to a post in Latvia.
They say it was a reward for a tip-off about a separate criminal investigation he was facing.
Our correspondent says that if Mr Lieberman is found guilty and sentenced to more than three months in prison, he would be forced to spend seven years out of government and give up his parliamentary seat.
On Sunday he was making a brief appearance before a panel of three judges at the Jerusalem District Court for a procedural hearing to enter his plea and set a future court date.
Since Mr Lieberman's resignation, Mr Netanyahu has served as interim foreign minister.
The case against Mr Lieberman relates to a financial scandal dating back more than a decade. He has described the investigations into him as a witch hunt.
He is seen as one of Israel's most outspoken politicians.
Born in Moldova, he is one of the million Israelis who immigrated from the former Soviet Union.
Seen as to the right of Mr Netanyahu, Mr Lieberman has been a harsh critic of the Palestinian Authority and its leader Mahmoud Abbas.