Syria conflict: US condemns deadly Aleppo rocket strikes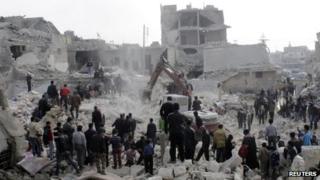 The US has condemned recent rocket attacks on Syria's northern city of Aleppo, which opposition activists say killed dozens of people.
The US state department said the strikes were "the latest demonstrations of the Syrian regime's ruthlessness".
The statement came after Syria's opposition coalition pulled out of planned international talks because of the world's failure to stop violence.
Damascus has not commented on the Aleppo attacks earlier this week.
In a separate development, the UN special envoy to Syria, Lakhdar Brahimi, described the car bomb attack on the ruling Baath Party's headquarters in Damascus on Thursday as a war crime.
The envoy said it left about 100 people dead. No group has said it carried out the attack.
'International silence'
In a statement, State Department spokeswoman Victoria Nuland said that Washington "condemns in the strongest possible terms the series of rocket attacks against Aleppo".
She accused the government of President Bashar al-Assad of being behind the strikes, saying that the regime "has no legitimacy and remains in power only through brute force".
The attacks - using Scud missiles - targeted rebel-held districts of Syria's second city, the activists said.
Ms Nuland also said that America was looking forward to meeting Syria's opposition groups soon.
Her comments came shortly after Syria's main opposition alliance - the National Coalition - announced it had decided not to attend a meeting of the Friends of Syria group in Rome next month.
It was also turning down invitations for talks in Washington and Moscow.
"The international silence on the crimes committed every day against our people amounts to participating in two years of killings," the opposition said.
It also singled out Russia for supporting and supplying weapons to President Assad.
"The Russian leadership especially bears moral and political responsibility for supplying the regime with weapons," it added.
The decision to boycott international diplomatic meetings in Syria effectively torpedoes the initiative launched by the National Coalition's leader Moaz al-Khatib, the BBC's Jim Muir in Beirut says.
Three weeks ago he announced that he was ready to meet Syrian government representatives to discuss an end to the violence.
The initiative was strongly backed by international powers, including Russia.