Bahrain activist Zainab al-Khawaja sentenced to jail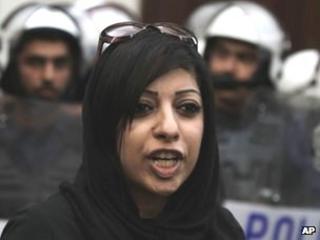 A court in Bahrain has sentenced pro-democracy activist Zainab al-Khawaja to three months in prison.
Ms Khawaja received the sentence after a court of appeal overturned an earlier acquittal.
The state news agency said she was found guilty of "insulting and humiliating a public employee."
Ms Khawaja has been a leading activist in the Gulf kingdom, which has been in political turmoil since pro-democracy protests erupted in February 2011.
She had previously served sentences of one and two months in two other cases.
Bahrain is ruled by a Sunni Muslim royal family but the majority population is Shia who have long complained of discrimination.
In one of the earlier charges, Ms Khawaja was found guilty of entering the "prohibited area" of the site of the former Pearl Roundabout in Manama - the focus of unrest in 2011.
Her lawyers had argued that the authorities had never announced officially a ban on access to the site.
On the other charge she was convicted of damaging public property in a police station. Her lawyer said she had torn up a picture of the king.
Her father, Abdulhadi al-Khawaja, is among eight activists and opposition figures sentenced to life imprisonment for allegedly plotting to overthrow the state.
'Continued harassment'
The appeal court decision was announced the day after the United Nations Human Rights Council (UNHRC) issued a statement condemning "the continued harassment and imprisonment of persons exercising their rights to freedom of opinion and expression in Bahrain".
The statement also made reference to "the lack of guaranteed due process" in the trials of 13 political activists, including Abdulhadi al-Khawaja.
Among the signatories was the United States, which had declined to sign a similar statement last year.
Bahrain is a member of an advisory committee to the UNHRC.
On 14 February 2011, peaceful protesters took over Pearl Roundabout. Three days later security forces cleared the site using tear gas, batons and birdshot.
As violence escalated 35 people, including five police officers, were killed, hundreds more were hurt and thousands jailed in February and March 2011.
Since then, opposition and human rights activists say more than 50 people have died, a figure which the government disputes.