Egypt's economy must get back on its feet - Kerry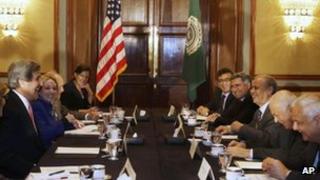 US Secretary of State John Kerry has said it was "paramount" for Egypt's economy to "get back on its feet" during talks in Cairo.
He urged the government to reach a deal on $4.8bn (3.2bn) IMF loan that could help overcome a severe economic crisis.
Mr Kerry is also expected to urge the government and the opposition to reach a political consensus after months of protests.
His visit comes ahead of elections boycotted by the main opposition group.
The National Salvation Front (NSF) says electoral laws favour allies of Islamist President Mohammed Morsi in April's parliamentary elections - a charge he denies.
Opposition anger
"It is paramount, essential, urgent that the Egyptian economy get stronger, that it gets back on its feet," Mr Kerry told Egyptian and US businessmen in Cairo on Saturday.
"It's clear to us that the IMF arrangement needs to be reached, that we need to give the market the confidence."
Mr Morsi's government agreed the loan in principle last November but it was later put on hold amid continuing street protests.
During his two-day visit, Mr Kerry is due to hold talks with Mr Morsi and other senior government officials.
Meetings are also planned with opposition leaders, although some of them are refusing to attend the talks.
They are angered by Washington's appeal to reconsider their boycott of the general elections set for next month.
American political traction in Egypt has declined sharply following Mubarak's departure amid mass protests in 2011 , so it is not clear how much Mr Kerry can hope to achieve, the BBC's Jim Muir reports.
Egypt remains sharply divided between Islamists and their liberal and secular opponents.
More than 70 people were killed in violence between security forces and protesters following the second anniversary of the revolution.
John Kerry's first overseas trip as secretary of state is taking him to 11 countries in Europe and the Middle East.