Suicide bomb attack in Yemen's Abyan province kills 12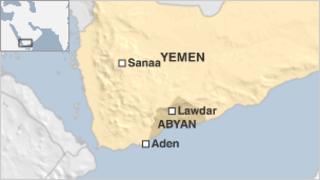 Twelve members of a pro-government militia group have been killed in a suicide car bomb attack in south Yemen.
A member of the Popular Committees said their offices in the city of Lawdar, in Abyan province, were targeted.
The force of the blast shook the city, witnesses said.
The Popular Committees is made up of civilians who helped the government, backed by the United States, to drive out al-Qaeda-linked militants from the south last year.
"A suicide car bomber from al-Qaeda managed to reach the office... and detonated the explosives at the gate," a member of the group was quoted by AFP as saying.
Hospitals said they had received 12 bodies, while at least 15 people were reported to have been wounded.
Al-Qaeda militants took advantage of a power vacuum during an uprising in 2011 that forced President Ali Abdullah Saleh from office to seize control of large swathes of southern Yemen, including Abyan province.
But they were driven from their strongholds last year in an all-out offensive by the government, helped by the resistance committees as well as US drone attacks on militant targets.