Israel's cabinet for change - if it lasts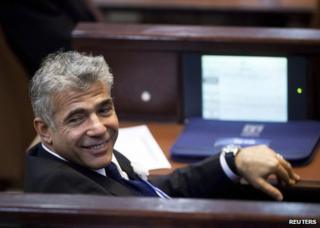 In recent days many Israelis have joked about their hopes for white smoke in Jerusalem as well as at the Vatican.
While the selection of a new pope took just two days, the deal on Israel's new coalition government came seven long, painful weeks after the general election.
It was uncomfortably close to the final deadline set for Benjamin Netanyahu on Saturday and next week's scheduled visit of US President Barack Obama.
However the final line-up has now been confirmed with the prime minister's Likud-Yisrael Beitenu bloc being joined by the centrist Yesh Atid, far-right Jewish Home and smaller, centrist Hatnua party.
The new government includes two rising stars in Israeli politics - charismatic former TV presenter Yair Lapid, who leads Yesh Atid, and Naftali Bennett, head of Jewish Home.
It will also have a new look that is much more secular, with the ultra-Orthodox parties left in opposition for the first time in years.
The implications for a potential return to peace talks with the Palestinians are yet to be determined.
Hard bargain
Mr Lapid and Mr Bennett joined forces to drive a hard bargain in coalition talks.
They have insisted on legislation to end Israel's controversial system that allows tens of thousands of ultra-Orthodox men who devote their lives to religious study to be exempted from military service and rely on welfare handouts.
Many middle-class Israelis support the change.
"We have a growing sector in the Jewish majority who are not productive economically, they do not take part in civic operations and even have an ideology of looking after themselves not the state," says Dan Avnon, a politics professor at Hebrew University.
"This has generated a lot of resentment. It came to a crisis point because Israel has financial strains. Now this is something that will change, it seems, over the next few years."
With Mr Lapid and his deputy, Rabbi Shai Piron, in the finance and education ministries there is an expectation that state subsidies to Jewish seminaries will be cut and that ultra-Orthodox schools will be forced to include non-religious subjects in their core curricula.
Traditionally, Israel's ultra-Orthodox parties - Shas and United Torah Judaism - have played the role of kingmakers in government, allowing them to gain disproportionate influence.
They have reacted badly to their change in fortunes.
"I am astounded at the agreement between two political parties [Yesh Atid and Jewish Home] that are so different," Rabbi Nissim Zeev, a member of parliament for Shas, told the BBC.
"The reason they got together was just to remove the ultra-Orthodox parties from the coalition. This is really very ugly."
Palestinian caution
With a focus on domestic issues, which will also include new austerity measures, few analysts expect meaningful progress towards peace with the Palestinians in the next government.
While the Hatnua leader, Tzipi Livni, has been named as chief negotiator if talks with the Palestinians resume, her commitment to a two-state solution is not shared with other key coalition partners.
Indeed Naftali Bennett has dismissed that idea as "suicide" for Israel. His Jewish Home party includes Knesset members from Jewish settlements in the occupied West Bank, which the Palestinians say are the main obstacle to peace.
Getting around that will prove a major challenge for President Obama.
Yesh Atid has opposed any division of Jerusalem - which both the Palestinians and Israelis claim as their capital - but is making a commitment to at least try to restart negotiations, which stalled over two years ago.
"We have to begin talks with the Palestinians immediately," Yael German, a senior party member told Army Radio.
"We need to sit at the negotiation table. Let's sit and proceed toward a peace agreement. It is essential."
Unsurprisingly, Palestinian officials are choosing their words carefully.
"This is totally an internal Israeli matter," said the Palestinian chief negotiator, Saeb Erekat, when asked about the shape of the next coalition.
"We can work with any of the figures if they stick to Israel's previous commitments. The acceptance of a two-state solution is very important."
'Two years'
After the drawn-out struggle to form it, it remains to be seen what the future holds for the new government.
Already the prime minister faces a tough task just to quell the disquiet among members of his own Likud-Yisrael Beitenu alliance, which gave up key cabinet posts to Mr Lapid.
At a meeting earlier, he warned the current term would be "one of the most challenging in the history of the state of Israel" but pointed out that the defence, interior and foreign ministries remained in their hands.
It seems unlikely that this coalition will be as stable as the last one, which stayed in power for four years - an unusual feat in Israeli politics.
A former senior advisor to Mr Netanyahu, Yoaz Hendel, is predicting that the next set-up will not last for more than two years.