Egypt students storm office of top al-Azhar cleric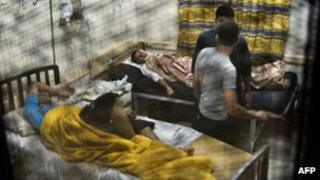 Hundreds of students at Egypt's al-Azhar university broke into the offices of the country's top Muslim cleric of the al-Azhar mosque.
The protest, late on Tuesday, was sparked by a food poisoning that left 500 students in hospital on Monday.
The students say the incident was a sign of neglect by the head of the university and want him to resign.
In a statement, the university has warned the students not to "exploit" the food poisoning.
The statement added that such poisonings had occurred at other universities.
Tests carried out by the toxicology unit of Ain Shams hospital in Cairo revealed that contaminated food was responsible for the mass food poisoning.
"The story started in stages, there were worms in the vegetables, then we found worms in the rice and finally we have reached the sage of poisoning. Are they waiting until one of us dies?" Hassan al-Gendi, one of the students, told the Reuters news agency.
Ahmed al-Tayeb, the Grand Imam of al-Azhar, whose offices were attacked, is the university's ultimate authority.
On Tuesday Morning, President Mohammed Morsi visited one of several hospitals to which the students had been taken.
The senior Egyptian prosecutor has ordered an investigation.
Basic hygiene standards are not always observed at Egyptian universities, but this incident is one of the largest cases of food poisoning in recent years.
The university belongs to the al-Azhar mosque, one of the main centres of Sunni Muslim learning, which also awards degrees in sciences and humanities.
According to the Egyptian health ministry all of the 479 cases of poisoning came from one dormitory.