'Saudisation' drive leads to school closures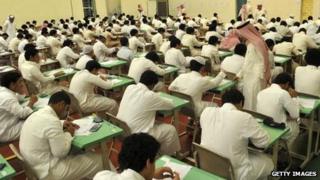 A number of schools in Saudi Arabia have been closed this week as expatriate teachers stay away in fear of being rounded up and deported.
Saudi and expatriate parents have complained that private schools in the main cities of Riyadh and Jeddah have been unable to teach their children.
The reason the teachers are staying away is that they believe they fall foul of changes in Saudi labour law aimed at reducing the country's decades-long dependence on expatriate workers.
With most of the teachers coming from abroad, the schools have found themselves without staff as employees remain at home in order to evade the net of arrests and deportations. Many small businesses have also reportedly been staying shut for the same reason.
There have been protests outside the Saudi embassy across the border in Yemen against the new measures as thousands of Yemeni workers in Saudi Arabia are arrested and deported.
Other nationalities who make up Saudi Arabia's eight-million strong foreign workforce have also expressed their anxiety about losing their livelihoods.
Saudi labour laws now demand that all businesses have a certain number of Saudi employees. If they do not, they face fines.
New labour laws have also tightened the requirement that foreign workers should not be employed by anyone but their original sponsors. This potentially affects millions of expatriates.
In the education sector, foreign teachers often work for more than one school, which could now put them at risk.
There has also been a major new initiative by Saudi officials against illegal workers in recent weeks - those who outstayed their original visas or who have left their sponsor. Again, this accounts for millions of foreigners working in the country.
There have been many previous efforts to wean Saudi Arabia off its dependence on foreign workers - from the most elite and skilled jobs to the most back-breaking and menial. "Saudisation" has been government policy for years.
Yemeni anger
The need to provide jobs for Saudis has grown increasingly urgent.
Unemployment is high amongst young Saudi men, despite the country's oil riches.
Most of their opportunities lie in the government sector as private companies have been loath to employ locals, seeing them as less committed and skilled.
But as in the past, this latest drive risks backfiring.
On top of annoyance over school closures, people have been complaining about shops shutting early because foreign workers are staying away.
Saudi newspapers have quoted local officials blaming each others' departments for the deportation drive. Local businessmen have said the move could hurt the economy.
But so far the biggest effect has been seen in Saudi Arabia's impoverished and unstable neighbour, Yemen.
More than one million Yemenis work in Saudi Arabia - many having lived there for many years without proper papers. Their remittances are vital to the country's fragile economy, pumping in some $4bn (£2.6bn) a year.
Images of Yemeni men being chased by Saudi police or rounded up awaiting deportation have sparked both outrage and fear back home.
There have been warnings that their forced return could not only further wound Yemen's broken economy, but possibly help fuel an al-Qaeda-linked insurgency in the south that feeds on the plight of jobless and frustrated young Yemeni men.