Syria rejects 'broadening' of UN chemical weapons probe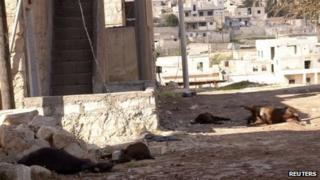 Syria has rejected what it calls an attempt by the UN to broaden a probe into the alleged use of chemical weapons in the country's conflict.
The investigation was prompted by an incident in the village of Khan al-Assal in Aleppo province last month.
A UN inspection team is in Cyprus waiting for permission to enter Syria to investigate the claims.
But state-run media said Syria had rejected moves by the UN to broaden the probe to cover the whole country.
Meanwhile, a car bomb exploded in the centre of the capital Damascus, killing at least 15 people and wounding dozens, state media reported.
'Without delay'
The Syrian government and rebel forces blame each other for the incident in Khan al-Assal.
A Syrian foreign ministry source said that UN Secretary General Ban Ki-moon had asked for "additional tasks" to be added allowing investigators to spread over the entire country, which the source said would constitute a "violation of Syrian sovereignty".
The source said the ministry "regretted" that Mr Ban had "bowed to pressure exercised by states known for their support for the shedding of Syrian blood with the aim of diverting [the probe] from its true content".
"Syria cannot accept these manoeuvres from the UN's Secretariat-General, taking into account the truth of the negative role it played in Iraq," added the source.
Speaking in The Hague, Mr Ban said "all serious claims" of chemical weapons use "should be examined without delay, without conditions and without exceptions".
Only a handful of countries have failed to sign the Chemical Weapons Convention (CWC) which internationally bans their use. Syria is one of them.
It is believed to have stockpiles of mustard gas and the highly toxic nerve agent, sarin.
Damascus blast
Monday's blast happened in a busy residential and commercial area, close to schools and Syria's central bank.
Huge plumes of black smoke could be seen rising over the area as emergency services raced to the scene.
At least 70,000 people have died since the uprising against President Bashar al-Assad began just over two years ago.
Monday's explosion was the second large car bomb attack in Damascus in recent months: At least 53 people were killed and more than 200 wounded in an attack on the ruling Baath party headquarters on 22 February.
A suicide bomber detonated explosives inside a mosque in Damascus's Mazraa district last month, killing 42 people including Sheikh Mohammed al-Buti, a prominent Sunni supporter of President Assad.