Iran earthquake: Eyewitnesses tell of fear and confusion
Iran has been hit by its most powerful earthquake for nearly 40 years. It was also felt in Pakistan, India and the Middle East. Eyewitnesses and BBC correspondents have been sending reports from the region.
Qatar
Leigh Page is a documentary film-maker in Doha
It felt like the building was floating. We could feel it moving from one side to the other, from left to right.
We didn't do anything and then we felt another shock, the same thing and the building moving left to right.
There was no announcement, we just walked out. We self-evacuated.
The streets were full of people. It's very hot in Doha and everyone was trying to find some shade.
Pakistan
Shahzeb Jillani is a BBC correspondent in Karachi
We were in our first floor office when our computer monitors started shaking. Colleagues looked at each other and asked if everyone was feeling the tremors.
Someone said "it has to be an earthquake". It went for for several seconds. I looked up at the wall-mounted television monitor and just then, local TV channels started flashing "BREAKING NEWS".
A nervous TV presenter started talking about earthquake tremors having been felt in Karachi and Balochistan.
Just then, we left the office and made our way through the stairs out of the high-rise building where the BBC office is located.
Outside, scores of people gathered on the road waiting for the tremors to subside.
India
Sanjoy Majumder is a BBC correspondent in Delhi
The epicentre of the earthquake may have been a considerable distance away in Iran but it felt a lot closer.
The BBC office is on the fifth floor of a 17-storey building in Delhi's main business district, Connaught Place, and the entire building shook for several minutes.
The immediate sense among most of us was one of confusion and surprise - it took us a while to realise what was going on. Indian television was very quick to react - it was flashed across the screen within minutes.
We were told to evacuate and as we trooped out of the front door, we could see people from every floor heading for the stairs.
Clearly it was happening in every building in Connaught Place because the street outside was filled with people.
Many were on their mobile phones, perhaps calling friends and family while some were taking pictures.
But it was quite evident that there had been no major damage and so everyone was quite relaxed after the initial panic. The biggest smiles were on the faces of the ice-cream and street food stall owners - who used the opportunity to cash in.
United Arab Emirates
David Hastings is a senior account manager for a technology company in Dubai
My office is in Knowledge Village near the Dubai Marina and Palm Jumeria.
I'm only on the second floor but the cups on my desk were shaking, and there were lots of shaky tables and chairs.
Then I got a weird feel in my ears, I could tell something was wrong. I could see people running out of buildings. Lots of people were panicking. I was sitting at my desk, and I felt the entire building rocking. It lasted about 40 seconds to a minute.
Building officials were waving red flags to direct people to the evacuation points.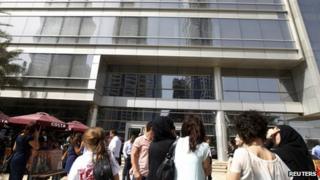 We've had a couple in the past few weeks but nothing like this. I've been here for four years and this is my first experience of it.
Quite a few people have been sent home.
I've had loads of text messages from friends saying they've been sent home from the day. Lots of people evacuated.
Katy Watson edits a BBC business programme in Abu Dhabi
I was with the boss of a development company in an area where there are lots of skyscrapers going up.
We had just arrived at a 75-storey office building and within a minute there was quite a lot of commotion.
Everybody was told to leave the building.
I was only on the first floor so I didn't actually feel anything.
But people who were on the 12th floor and above say the building swayed for nearly 10 seconds.
There was another earthquake here last week but everybody has been saying it was much stronger today. It was much more sudden.
One friend said he had an office chair on wheels and it started to move around.
This region is on a fault line and lots of buildings are built with that in mind.
Dubai police have had no reports of accidents.