Iraq violence: Mortar attack on mosque 'kills seven'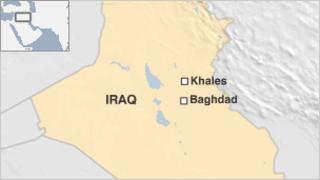 At least seven people have been killed in a mortar attack on a Sunni mosque in northern Iraq, police say.
Dozens more were hurt in the strike as worshippers were leaving the building in Khales after Friday prayers.
It comes a day after at least 27 people were killed in a bomb attack on a cafe in the Iraqi capital Baghdad.
There has been an escalation in violence across the country ahead of provincial elections, the first since 2010, due to be held on Saturday.
The attack on the mosque left part of the building destroyed, the Associated Press news agency reported.
There has been a spate of attacks in Iraq this week in the run up to the polls, despite heightened security.
On Thursday, a suicide bomber blew himself up in the cafe in west Baghdad, police said. No group has said it carried out the attack.
On Monday, a series of co-ordinated car bomb attacks across the country claimed at least 31 lives and injured more than 200 people.
Fourteen candidates who were standing in the elections have been assassinated, an two of Iraq's 18 provinces will not participate in the polls because of the level of insecurity there.
Tensions are high between Iraq's Sunni and Shia, amid claims by the Sunni Muslim communities that they are being marginalised by Prime Minister Nouri al-Maliki's Shia-led government.
Sunni Islamist militants linked to al-Qaeda have attempted to destabilise the government by stepping up attacks, mainly on Shia but also Sunni targets this year.
Although violence has decreased in Iraq since the peak of the insurgency in 2006 and 2007, bombings are still common.