Palestinian prisoner Samer Issawi to end hunger strike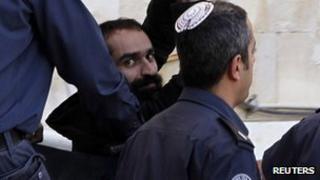 Israel says it has reached a deal with a Palestinian prisoner to end a hunger strike in return for a reduction in the amount of time he faces in jail.
Under the agreement, Samer Issawi will be released at the end of the year.
Issawi had faced the prospect of serving an entire 26-year sentence originally imposed in 2002.
He was jailed for shooting attacks on Israeli vehicles, released in a prisoner exchange and later rearrested for violating the terms of his release.
Members of his family travelled to the jail where he has been refusing food to tell him that he could now end his protest.
Issawi had been among a group of hundreds of prisoners released in October 2011 in exchange for Israeli soldier Gilad Shalit, who had been held in Gaza by the Islamist group, Hamas, since 2006.
He was re-arrested nine months later and in August 2012 he launched a hunger strike in protest at his renewed detention.
For most of his strike, he took only water as well as vitamins, minerals and sugars. He rapidly lost weight and his lawyer said doctors had warned him that his life was in imminent danger.
A statement from the Israeli military said: "An agreement has been reached, in which Samer Issawi will serve 17-and-a-half months, starting from the day of his arrest for the violation of the conditions of his release".
The head of the Palestinian Prisoners' Club, Qadura Fares, confirmed to the BBC that Issawi's sister and lawyer signed the deal.
There have been widespread demonstrations in the West Bank and Gaza Strip in recent weeks to show support for Palestinian prisoners, widely seen as heroes of the national cause despite their offences.
Two Palestinians held in administrative detention in an Israeli jail ended their hunger strike in February after a military court hearing.
Administrative detention is a system under which a military court can order suspects to be detained indefinitely, subject to renewal every six months by the court, without trial or charge.
The Israeli military says it uses administrative detention when it fears an immediate risk to security or to protect informants.