April Iraq's deadliest month in five years - UN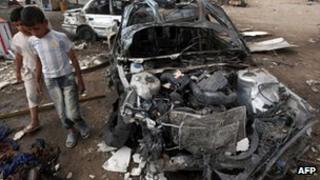 April 2013 was Iraq's deadliest month since June 2008, the United Nations mission in Iraq says.
It said a total of 712 people were killed, including 595 civilians, in "acts of terrorism and acts of violence" last month.
Iraq's Interior Ministry puts the total death toll for April at 245 people.
An army raid on a Sunni anti-government protest camp in northern Iraq last week has triggered a sharp increase in attacks.
Baghdad was the worst affected governorate with a total of 211 killed and 486 injured, the United Nations Assistance Mission For Iraq (UNAMI) said in a statement released on Thursday.
The mission says Diyala, Salahuddin, Kirkuk, Ninewa and Anbar were the next most affected provinces.
A spate of bombing attacks in the last two weeks has left more than 200 people dead and scores injured.
Fourteen members of a Sunni militia opposed to al-Qaeda were killed in two attacks by militants near the western Iraqi city of Fallujah on 1 May.
At least 18 people were killed and dozens injured by five car bombs in Shia-majority provinces of southern Iraq on 29 April.
The latest figures come at a time when tensions are high between Iraq's Sunni and Shia, amid claims by the majority Sunni Muslim communities that they are being marginalised by Prime Minister Nouri Maliki's Shia-led government.
More than 20 people were killed in clashes between security forces and Sunni Arab protesters in northern Iraq on 23 April.
The violence erupted when security forces raided an anti-government protest camp in Hawija, near Kirkuk.
There was also widespread violence before the 20 April provincial elections - the first elections since the last US troops withdrew at the end of December 2011.
Dozens were killed in bombings targeting mainly Shia areas, and 14 candidates, most of them Sunnis, were murdered.
Although levels of violence in Iraq have dropped since the heights of the insurgency in 2006 and 2007, current unrest is more widespread than at any time since the US military withdrawal.