Sinai kidnapping: Egyptian police seal border with Gaza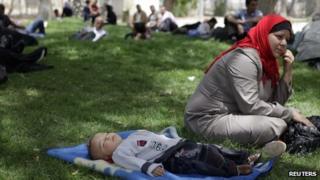 Egyptian police have sealed off the Rafah border crossing with the Gaza Strip in protest at the abduction of seven security personnel in Sinai.
Reports say police locked the gates and placed barbed wire at the entrance.
Rafah is the only regular exit from Gaza for 1.6m Palestinians living there. Other crossings into Israel are allowed only in exceptional cases.
The three policemen and four soldiers were captured while travelling in the peninsula, east of El Arish.
Four of the men worked at the Rafah crossing, reports said.
An Egyptian security official said the Rafah crossing will remain closed until the group is released, the Associated Press news agency reported.
The Palestinian Maan news agency said Gaza's Interior Ministry declared a state of alert along its border with Egypt and large numbers of Egyptian soldiers have been in the area.
The BBC's Rushdie Abu Alouf, who is among some 150 Palestinians stuck on the Egyptian side, says people including the sick and elderly have been sitting on the ground under the heat of the sun since early morning waiting to cross.
He says there is a long queue of people in front of an Egyptian tank which has closed the road outside the Egyptian gate of the crossing.
One of them, 72-year-old Abu Mohammed, called for the captives' release, saying: "We have to pay the price of an internal Egyptian problem. We did not kidnap the solders."
The kidnappers are said to be demanding the release from prison of jailed relatives.
Egyptian President Mohammed Morsi summoned his defence and interior ministers on Thursday to discuss the situation.
Sinai has become increasingly lawless since President Hosni Mubarak was ousted in 2011.
Islamist militants in northern Sinai have used the lack of central authority to carry out attacks across the border into Israel.
Egyptian Bedouins have also used hostage-taking to press for the release of jailed tribesmen they say have been sentenced unfairly on charges ranging from terrorism to drug dealing.