Iraq violence: Policemen killed in fresh attacks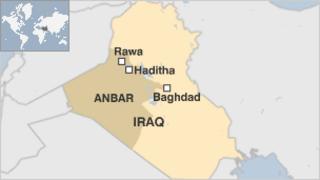 At least three police officers have been killed after gunmen attacked their station in northern Iraq, local officials say.
They say another two policemen were wounded in the town of Rawa, some 260km (160 miles) north-west of Baghdad.
Reports also say another seven policemen died in a separate attack in the nearby town of Haditha.
The authorities have blamed a number of recent deadly attacks in the Anbar province on Sunni militants.
On Saturday, gunmen in Anbar kidnapped up to 10 policemen at a checkpoint in Ramadi.
The attacks come despite appeals for calm after at least 60 people died in three bombings in Sunni Muslim areas in and around Baghdad last Friday - the worst day of sectarian violence in Iraq for months.
The bombings followed deadly attacks on Shia targets across Iraq.
Correspondents say the recent spike in violence is reminiscent of the retaliatory attacks between Sunnis and Shias that pushed the country to the brink of civil war in 2006-2007.