Sinai abduction: Egypt President Morsi rules out talks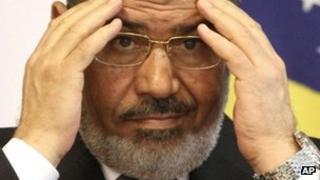 The Egyptian president has ruled out negotiating with the abductors of seven members of the security forces seized last week in the Sinai peninsula.
In a statement, Mohammed Morsi said there was "no room for dialogue with the criminals".
He was speaking after a video emerged apparently showing the three police officers and four soldiers pleading for their release.
The kidnappers are said to be demanding the release of political detainees.
Mr Morsi's statement came after a meeting with senior politicians on Sunday.
The president wrote on his Twitter feed that "all options are on the table" to free the hostages and that the government in Cairo would "not succumb to blackmail".
The seven men were captured while travelling in minibuses in northern Sinai, east of the city of El Arish.
While the identity of their captors is unclear, the BBC's Shaimaa Khalil in Cairo says reports suggest they are jihadist militants.
State media said earlier that local Bedouin tribal leaders had been asked to act as mediators.
In the unverified video posted online on Sunday, seven blind-folded men are seen with their hands on their heads. One appeals to President Morsi to rescue them, by securing their freedom through the release of political detainees from Sinai.
The abductions have prompted angry police to shut down border crossings with Gaza and Israel until the hostages are released.
The peninsula has become increasingly lawless since President Hosni Mubarak was ousted in 2011.
There have been several incidents in which Western tourists and other foreigners have been kidnapped.
Correspondents say they are usually released fairly quickly, but some migrants from poorer regions seeking a better life in the West have been seized and brutally mistreated by people traffickers.
Islamist militants in northern Sinai have used the lack of central authority to carry out attacks across the border into Israel.
Egyptian Bedouins have also used hostage-taking to press for the release of jailed tribesmen they say have been sentenced unfairly on charges ranging from terrorism to drug dealing.