Syria confirms role in Geneva peace conference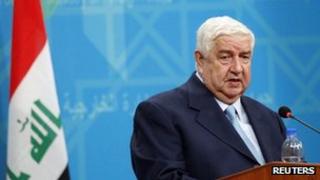 Syria's foreign minister says President Bashar al-Assad's government has agreed "in principle" to take part in peace talks in Geneva planned for June.
Walid Muallem told reporters in Baghdad that the conference was "a good opportunity for a political solution to the crisis in Syria".
Russia and the US hope the talks will bring a negotiated end to the violence.
Syria's main opposition coalition has said it is willing to take part if President Bashar al-Assad steps down.
A spokesman for the National Coalition, Louay Safi, told the BBC on Friday that the government would have to agree to a framework that involved a handover of power by President Assad "and his associates" as part of a settlement.
No date for the conference has yet been finalised, and Russian Foreign Minister Sergei Lavrov and US Secretary of State John Kerry are due to discuss the planned talks in Paris on Monday with French Foreign Minister Laurent Fabius.
Mr Fabius said in Abu Dhabi on Sunday that "there are also quite a few issues to resolve". He also warned that the involvement of Iranian forces in the conflict meant that involving Tehran in the conference risked preventing a political solution.
The increased round of diplomacy coincides with an offensive by Syrian forces and Iranian-backed Lebanese Hezbollah militants in the western Syrian town of Qusair.
And on Sunday, two rockets were fired at a Hezbollah-controlled area of the Lebanese capital, Beirut.
'Sustained cessation'
Syria's confirmation that it had in principle decided to attend the summit came after pressure from the Russian government. Mr Muallem's announcement was also carried by Syrian state media.
When a foreign ministry official in Moscow revealed on Friday that Damascus was planning to take part, an opposition spokesman told the BBC he wanted to hear the news from the Syrian government.
While the conference agenda is not yet clear, both Moscow and Washington have said any agreement should be based on the final communique issued in June last year, at the end of a meeting of the UN-backed Action Group for Syria.
The June 2012 communique calls for "a sustained cessation" of violence and the establishment of a transitional government that "could include members of the present government and the opposition and other groups".
More than 80,000 people have died since the uprising against President Assad's rule began in March 2011, according to the UN.