World powers struggle to reach agreement on Syria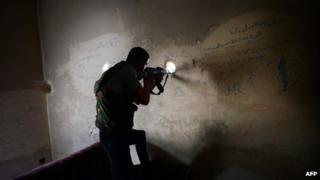 In a conflict which worsens by the week, this is a week when critical decisions on the next steps in Syria must be made.
On Monday, meetings of foreign ministers in Brussels and Paris could pave the way for more weapons to be supplied to the opposition or more arm-twisting to push all sides towards the negotiating table.
In Brussels, EU foreign ministers need to decide whether to renew a package of sanctions on Syria, including an arms embargo which expires at the end of this week.
Key players, including the UK and France, have been lobbying for months for an easing of the embargo.
But there is strong resistance from other members, as well as EU officials, who fear that channelling more arms to the opposition will only worsen violence that has already cost at least 80,000 lives.
There is also mounting concern that weapons could make their way into the arsenals of militant groups Europe does not want to empower.
The US Secretary of State, John Kerry, has added his voice to those urging Europe to ease restrictions on military support for the opposition.
"Fine for him to say but what is Washington willing to do?" one European foreign minister opposed to lifting the ban told me.
The US has so far refused persistent calls to arm the rebels.
Geneva conference
On Monday, Mr Kerry meets his Russian counterpart, Sergei Lavrov, in Paris.
Their talks are expected to focus on plans for the first conference to bring together representatives of the Syrian government and opposition.
Diplomats hope the gathering can be held next month in Geneva, but continuing rifts over who will be invited, and under what conditions, still stand in the way.
On Sunday, Syria's Foreign Minister, Walid Muallem, announced that Damascus was ready "in principle" to send a delegation to Geneva.
But in Istanbul, where members of various opposition groupings are meeting to choose a new leadership for the National Coalition, various conditions are still being voiced.
Many opposition figures still insist they will not sit with members of President Bashar al-Assad's regime unless it is clear he will be stepping down.
There was even a suggestion the opposition would not attend unless the EU arms embargo was lifted.
Pressure on opposition
The meetings in Brussels and Paris are linked.
One of the main concerns in many European capitals is the impact any lifting or easing of the EU arms embargo might have on the fragile effort to fashion a political transition.
In a statement to Parliament last week, Foreign Secretary William Hague emphasised: "The United Kingdom and France are both strongly of the view that changes to the embargo are not separate from the diplomatic work, but essential to it."
"We must make clear that if the regime does not negotiate seriously at the Geneva conference, no option is off the table," he added.
The UK insists that, as yet, it has made no decision on whether to arm the rebels.
But various options are being suggested in advance of the Brussels deadline including the distribution of weapons through the National Coalition, recognised by many Western and Arab states as the sole legitimate representative of the Syrian people.
Such a move would also be an effort to strengthen the opposition alliance's bargaining position at any future talks vis-a-vis more extremist groups as well as the government.
The National Coalition is also under pressure to resolve its well-publicised divisions and expand its membership to bring in more liberal elements as well as representatives of the Free Syrian Army.
Jockeying for position among an array of Syrian groups also reflects interventions by key backers - like Saudi Arabia and Qatar, as well as Turkey and the US - to try to forge an opposition to their liking.
Weapons contract
This protracted debate over arming the rebels has been given added weight by the Syrian military's recent advances on the ground, and its solid support from allies like Iran and Russia.
Well-trained fighters from the Lebanese Shia Islamist movement, Hezbollah, have joined battle with government forces fighting to regain control of the strategic western town of Qusair, which lies on vital supply routes for both the rebels and the government.
And Moscow insists it must continue to honour its arms contracts with Damascus, including the provision of the powerful S-300 air defence missile batteries.
Media reports at the weekend that the contract was cancelled after a meeting between Russian and Israeli leaders have been denied.
"It's more than a bit fanciful that where John Kerry failed to persuade Vladimir Putin to abandon the S-300s sale to Syria, Benjamin Netanyahu will have succeeded," says Syria specialist Michael Weiss.
Embargo extension
Arguments over the arms embargo are complicated by the reality that the only possible game-changer is more sophisticated weaponry the opposition may not, at present, be able to operate.
"The reality is Britain and France don't have those weapons in their armouries now and, even if they were available on the market, you would need to send in foreign forces to help use them," commented the European foreign minister.
If there is no consensus on amending or extending the arms embargo, a package of other sanctions putting pressure on President Assad and his supporters would also disappear.
That is an outcome EU member states want to avoid.
So, while divisions persist, other options being considered include a short extension to see how any negotiations play out.
This week is likely to end up being no different from most weeks in this deepening war - the only agreement on all sides is on how far away a real solution is.