Bahrain police hurt in explosion near Manama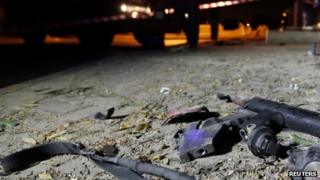 Seven police officers were injured when a homemade device exploded in a town near the capital Manama, Bahrain's Ministry of Interior says.
The explosion, which happened Wednesday night in the town of Bani Jamri, was a "terrorist act", it said.
It said that one of the police officers was in a critical condition.
More than 60 people, including 6 police officers have died since pro-democracy protests broke out in the Gulf island kingdom in February 2011.
Bani Jamri has seen frequent clashes between police and protesters. But the latest attack represents one of the most serious incidents so far, in terms of police casualties.
Youths armed with Molotov cocktails attack police on an almost nightly basis in villages and towns around the capital.
The police respond with teargas, stun grenades and birdshot but are frequently accused by the opposition of using excessive force against protesters.
The opposition says that helps fuel an ongoing cycle of violence.