Drone strikes kill seven in Yemen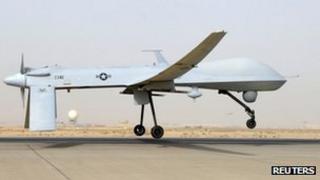 Seven suspected al-Qaeda militants have been killed in two drone air strikes in southern Yemen, officials say.
The militants were travelling in two cars which were hit in the airstrikes.
The strikes come nine days after US President Barack Obama said he would only use such strikes when a threat was "continuing and imminent".
Yemen is considered a stronghold of al-Qaeda in the Arabian peninsula (AQAP). Militants have gained ground because of a weak central government.
A US-backed military offensive last year pushed the militants back from some of its strongholds in the south, but AQAP is viewed by the US as as the most active and deadly wing of al-Qaeda's terror network.