Formula 1 racing cars cause controversy in Jerusalem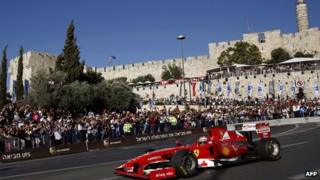 Tens of thousands of spectators have turned out to watch Formula 1 racing teams roar around the edge of Jerusalem's Old City.
A showcase event over the past two days featured the Ferrari and Marussia teams.
The mayor said the idea was to promote peace and bring together people of different faiths.
However Palestinian officials saw it as an Israeli attempt to show sovereignty over the disputed city.
Both Israel and the Palestinians claim Jerusalem as their capital.
Ferrari test driver and three-time Grand Prix winner Giancarlo Fisichella delighted the crowds as he sped past the ancient city walls in his red F1 racing car.
Marussia's Rodolfo Gonzalez also took part as well as other international drivers and superbike and stunt riding champions.
Special stands were erected along main roads which were closed off to traffic to make a 2.8km (1.7 mile) race track. Cars reached speeds of up to 240km (150 miles) per hour.
Mixed crowds
As well as Jewish Israelis, many Palestinian residents of East Jerusalem came to watch. Tourists also took in the spectacle.
Israeli organisers suggested that what was billed as the first Jerusalem F1 Peace Roadshow had lived up to its name.
"Everyone loves cars and we've chosen the track to be near wonderful sights. Everyone's welcome," the Mayor of Jerusalem, Nir Barkat told the BBC.
"Jews, Muslims and Christians all love racing and you can see spectators from all walks of society getting close together."
However Palestinian officials did not share that enthusiasm.
"The Israelis are trying all different ways to project their own agenda, including through sport," said the Palestinian Authority Governor of Jerusalem district, Adnan Husseini.
"They are trying to show the issue of Jerusalem is resolved and that there is peace and stability. Actually it isn't true. It's not the fact."
Hundreds of extra police were brought in to manage security for the two-day event.
However, Israeli police said that there was not one incident of violence reported.