Palestinian teenager killed in West Bank clashes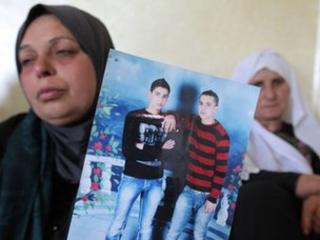 A Palestinian teenager has been killed during clashes with Israeli troops in the West Bank.
Moataz Sharawna, 19, died after being shot and, according to Palestinians, subsequently hit by an army vehicle.
It followed confrontations between stone-throwing youths and soldiers in the village of Dura, south of the city of Hebron.
The Israel military said it was investigating the circumstances of Mr Sharawna's death.
A military spokeswoman confirmed that a young Palestinian man was shot.
"Palestinians hurled stones at security forces, which responded with crowd-control measures," the spokeswoman said.
A Palestinian witness told the BBC that Mr Sharawna had been throwing stones and then climbed on top of an Israeli army jeep.
He said that soldiers fired at him and he was then run over by another army vehicle.
Locals said that there was a large deployment of Israeli troops in Dura after the incident and that several checkpoints were set up.