Egypt starts on new constitution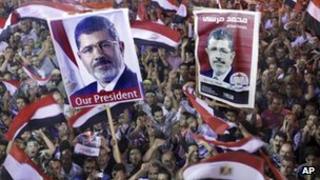 A 10-strong panel of legal experts, appointed by interim President Adly Mansour, is to start work on Sunday on amending Egypt's constitution.
They have 30 days to draft changes paving the way for new parliamentary and presidential elections.
The previous constitution framed by the government of ousted Islamist President Mohammed Morsi has been suspended.
His Muslim Brotherhood movement has denounced the rewriting of the constitution.
Thousands of pro-Morsi supporters are continuing to protest against his removal in the Nasr City area of Cairo.
Demonstrators, many of them from Mr Morsi's Muslim Brotherhood, staged large rallies across Egypt on Friday, angry at his overthrow by the military on 3 July.
The Brotherhood has refused to recognise the new military-backed administration.
However, interim Prime Minister Hazem el-Beblawi, in his first televised interview, said on Saturday he was hoping for everyone to take part in a national dialogue.
"We cannot write a constitution when the country is divided. We have to return to harmony," he said.
In a separate development, Jordan's King Abdullah on Saturday became the first Arab leader to visit Egypt since the fall of the Islamist-led government.
He met the caretaker president and gave his backing to "Egyptian national choices," a presidential statement said.
Professors and judges
The Morsi-backed constitution was approved in a controversial December 2012 referendum but considered one of the most contentious measures in his year in office.
Opponents complained the charter was too Islamist in content, gave Mr Morsi extensive new powers and failed to protect freedom of expression and religion.
Under the caretaker president's decree announced on Saturday, a committee, made up of four university professors and six judges, has been given the task of presenting its suggested amendments to a larger, 50-member panel comprised of religious officials, politicians, unionists and army officers.
One in five members of the second committee will be young people involved in Egypt's revolutionary street movements and women.
The panel will have 60 days to review the proposals before the amended constitution is put to a referendum. A parliamentary vote would then follow.
The Muslim Brotherhood has rejected calls for reconciliation and denounced the move to redraft the constitution.
At least 60 people have been killed in violence since Mr Morsi was deposed. On Friday, three women were killed and several others hurt when a group of pro-Morsi supporters was attacked in the Nile Delta city of Mansura,
The army has warned it will clamp down on violent protests.
But the ousted president is still being held by the military without charge despite objections from a number of international leaders and rights groups.