Progress on Syria's chemical weapons: A glimmer of hope for peace?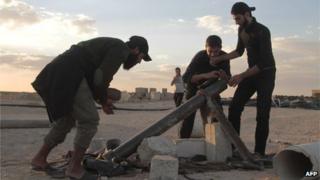 On the day Syria became the 190th member of the Organisation for the Prohibition of Chemical Weapons, the organisation charged with dismantling and destroying the country's chemical weapons programme said it was making steady progress.
Ahmet Uzumcu said his teams had already visited five of at least 20 sites declared by the Syrian authorities.
A Western diplomat familiar with the work of the joint UN-OPCW team painted an even more optimistic picture.
By the end of Monday, he said, the teams would have visited about 10 sites.
In other words, the work is still bang on schedule.
The OPCW has until the end of the month to complete the verification and disabling phase of its work.
Despite dire warnings of the dangers team members might face in Syria, the diplomat said they had yet to experience a single example of deliberate interference.
Rebel territory
But inspectors have yet to test the willingness of the warring parties to agree to temporary ceasefires, to facilitate visits to chemical weapons sites in contested areas.
Mr Uzumcu, in his interview, said that one declared site is known to be in rebel-held territory.
He described it as abandoned, but it will still need to be inspected. There's no word on when this will happen.
The OPCW director general said he had not seen any evidence to suggest that rebel groups possessed chemical weapons.
For almost two months, the world has fixated on the relatively narrow issue of Syria's chemical weapons, while the war has raged on, unchecked.
Catalyst?
Now the US Secretary of State, John Kerry, has indicated that he's impatient to move on the political front, to get a so-called Geneva II conference organised within a month.
In his BBC interview, Ahmet Uzumcu voiced the hope that his team's work might act as a catalyst towards a wider political process.
Not surprisingly, for someone who clearly has chemical weapons on the brain much of the time, he also used the word "precursor".
Only a determined optimist would suggest that there's a clear line between ridding Syria of weapons of mass destruction and a comprehensive peace settlement.
But the unprecedented level of US-Russian cooperation which led to an agreement to deal with the former offers a faint glimmer of hope for the latter.