Khalil Marzook: Bahrain court frees opposition figure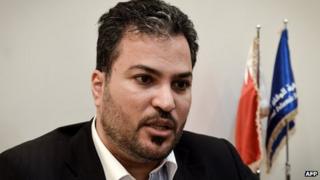 A leading member of Bahrain's main Shia opposition party arrested on terrorism charges has been released temporarily.
Khalil Marzook, assistant secretary general of Wefaq, was arrested after being summoned to a police station on Tuesday.
He was charged for inciting youth violence and trying to overthrow the government.
Rights activists regard the surprising court ruling as a conciliatory gesture aimed at placating public anger.
Mr Marzouq, appearing in court on Thursday amid tight security, denied all the charges.
New trial date
The judge said he could go free until his next hearing on 18 November.
His wife told the Reuters news agency at the courtroom after the ruling that Mr Marzouq was due to be released later on Thursday.
Mr Marzook is a former deputy speaker of parliament who resigned along with other Wefaq MPs when the government launched a deadly crackdown on pro-democracy demonstrations in February 2011.
The protesters were demanding more rights and an end to discrimination against the majority Shia community by the Sunni royal family.
Wefaq has accused the authorities of targeting political opponents by arresting Mr Marzook.
The party also alleged that Mr Marzook's arrest was a reaction to a recent resolution passed by the European Parliament.
The resolution called on the Bahraini authorities to stop using violence against peaceful protesters and to allow an independent investigation into alleged human rights abuses, particularly those involving children.
"There are usually no releases in similar cases when it is related to terrorism charges, but I think such a ruling was intended to placate public opinion," Mohammed al-Maskati, head of the Bahrain Youth Society for Human Right, told Reuters.