Egypt's TV satirist returns to mock the military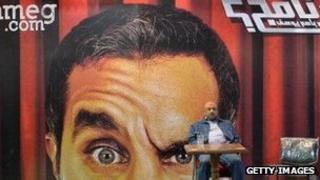 For over a year Dr Bassem Youssef, Egypt's top TV satirist, has hit the country's Islamist President, Mohammed Morsi, with his sharpest barbs.
He has upset the Islamists in his El-Bernameg show, he irked the liberals and he irritated Egypt's political elite too.
Now he is back on air after a four-month break during which General Abdul Fattah al-Sisi toppled Mr Morsi in response to nationwide protests against the president's rule.
Half-way through his show, the former heart surgeon applied his satire to the country's top brass with surgical precision and care.
Gen Sisi has been hailed a hero by many adoring Egyptians.
He is so popular that his picture adorns a new brand of chocolate named after him, as well as jewellery - something neither Mr Morsi nor his predecessor, Hosni Mubarak, could achieve.
The break made many in Egypt think that the satirist would not dare criticise the military, let alone the most powerful general in the land.
No-one is safe
Dr Youssef even mimicked the general's soft tone when he told officers that the military need to have some control over the media in post-revolution Egypt.
The satirist, often dubbed Egypt's Jon Stewart, has also poked fun at the country's interim President, Adly Mahmud Mansour, for his lack of smile and brief speeches - usually under 10 minutes.
In contrast, Mr Morsi's long speeches provided a wealth of material for El Bernameg.
The former president once started a speech on a Thursday evening and finished in the small hours of Friday.
As soon as the first episode of Dr Youssef's new series was broadcast, his TV bosses issued an on-air apology distancing themselves from his show.
They asserted, however, their strong belief in freedom of expression.
Complaints
Egypt's public prosecutor has been receiving legal complaints against the former heart surgeon since.
A famous actress, Ghada Abdel-Razeq, is even threatening Dr Youssef with a lawsuit - not for mocking her but for poking fun at General Sisi.
Supporters of the general said the satirist had sullied the armed forces' honour and pride.
Mr Morsi's followers accuse El-Bernameg's host of insulting him and Islam.
The conservatives denounce him for what they call rude comments and sexual innuendoes in El-Bernameg.
The Egyptian Armed Forces' spokesman, Col Ahmad Ali, denied statements allegedly made by the top general criticising Dr Youssef.
Hazem Beblawi, Egypt's prime minister, is the latest to wade into the issue.
Mr Beblawi, who is on a foreign trip, said he did not expect El-Bernameg to be suspended, adding that the freedom to criticise was needed.
The first episode ends with Dr Youssef saying, "Nobody can tell us what to say" when an arm appears from underneath his desk and replaces his script.
He then shouts, "We want freedom!", only for the hand to slap him on the face repeatedly and wag a finger at him.
When he declares that he is not afraid of any authority, the hand goes down to Dr Youssef's lap and he says in agony: "See you next week."
That remains to be seen.