Three Egyptian policemen killed by Mansoura gunmen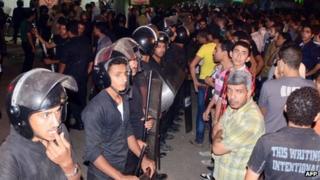 Three Egyptian policemen have been shot dead in an attack on a checkpoint in the Nile Delta city of Mansoura, officials have said.
The dawn ambush was carried out by three men in a car and one on a motorcycle, a security source in the city told Reuters news agency.
No group has so far claimed responsibility for the attack.
Hundreds of people have died in almost daily violence since President Mohammed Morsi was ousted from office in July.
Police are often targeted - one of the deadliest attacks against them took place in August, when at least 24 were killed by suspected Islamist militants in the lawless Sinai peninsula.
Hundreds of Islamist supporters of Mr Morsi have also been killed by security forces since Mr Morsi was deposed, 13 months after he was elected as president.
The interim government installed by the army accuses pro-Morsi Islamist groups of being behind many of the attacks.
But correspondents say the authorities often do not make any distinction between the Sinai-based militants it calls terrorists and supporters of the ousted president.
Police are now conducting search operations at the scene of Monday's attack, but no arrests have so far been made, Reuters said.
Correspondents say that more than 2,000 members and supporters of Mr Morsi's Muslim Brotherhood have been arrested since August, including Mr Morsi himself and the top leadership of his movement.
Mr Morsi and Brotherhood officials are due to face trial next week for inciting the killing of protesters during his time in power.