Syria crisis: Envoy Brahimi and President Assad discuss peace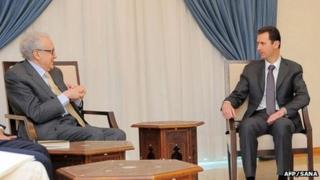 UN-Arab League envoy Lakhdar Brahimi has met Syrian President Bashar al-Assad in Damascus to try to win backing for planned peace talks next month.
Mr Assad was quoted by Syria's state media that the talks would only succeed if foreign powers ended "support for terrorist groups" fighting his forces.
A UN official told the BBC Mr Assad and Mr Brahimi had "a good meeting", without elaborating further.
Syria's opposition remains divided over whether to attend the talks in Geneva.
It is insisting that any negotiations should be based on Mr Assad's removal, and a key opposition group has recently threatened to boycott the meeting.
Meanwhile, the government of President Assad says there should be no preconditions for any talks.
'Patron states'
On Wednesday, Mr Brahimi briefed President Assad on his recent meetings in regional capitals as well as with members of the UN Security Council to prepare the peace talks - known as Geneva II.
Asked about reports that the talks could be postponed, the UN official said the "date itself doesn't matter, what matters is the underlying objectives of a political process".
Meanwhile, President Assad again stressed that "the success of any political solution is tied to stopping support for terrorist groups and pressuring their patron states", Syria's state media reported.
Mr Assad added that "only the Syrian people are authorised to shape the future of Syria".
More than 100,000 people have been killed in the fighting that has ravaged Syria for two-and-a-half years, according to the UN.
A further two million people have fled the country and some 4.5 million have been displaced internally.