What's become of Egypt's Morsi?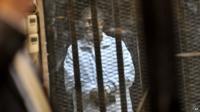 Egypt's ousted Islamist President Mohammed Morsi is standing trial on a raft of charges, along with many senior leaders of his Muslim Brotherhood movement. The trials, four in all, started last November but none have concluded.
Mr Morsi is still in prison. Egypt's first democratically elected president, he was deposed by the military in July 2013 after huge street protests.

What's Mohammed Morsi charged with?
•The deaths of protesters outside the Ittihadiya presidential palace in December 2012. At least 10 people died in the clashes. The Muslim Brotherhood says most of the victims were Islamists.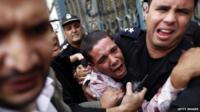 •His escape from jail during the 2011 uprising against former President Hosni Mubarak. Mr Morsi was one of some 130 defendants charged with the murder of prison officers during the breakout.
•Espionage and conspiring to commit terrorist acts in Egypt with the Palestinian movement Hamas, Lebanon's Hezbollah and Iran's Revolutionary Guards.
•Insulting the judiciary. While in office, Mr Morsi allegedly named a judge in a public speech and accused him of overseeing fraud in previous elections.
•Fraud charges in connection with the Muslim Brotherhood's economic and social programme for Egypt's recovery, called Renaissance (al-Nahda).
•Allegedly leaking sensitive national security documents to Qatar, which supports the Muslim Brotherhood.
Morsi trial 'a power-struggle'

How come the democratically elected president was arrested?
During his 13 months in power Mr Morsi fell out with key institutions and sectors of society. He was seen by many Egyptians as doing little to tackle economic and social problems.
In December 2012, an Islamist-dominated constituent assembly approved Mr Morsi's draft constitution boosting the role of Islam and restricting freedom of speech and assembly. A public referendum also went in his favour. However, widespread protests by secular opposition leaders, Christians and women's groups followed. More than 50 people were killed in January 2013 in violent street protests.
Six months later, the military warned Mr Morsi that it would intervene if he failed to reach an agreement with opposition groups within 48 hours to resolve the political crisis.
On 3 July, Egyptian army chief Gen Abdul Fattah al-Sisi announced the suspension of the constitution. The move followed days of mass street protests calling for the resignation of Mr Morsi, who had not responded to the ultimatum. He was subsequently arrested.

Is Mohammed Morsi being tried fairly?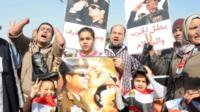 Several of Egypt's most influential figures approved the removal of Mr Morsi but there have been many debates about the legality of ousting a democratically elected leader.
Mr Morsi's supporters say he and other senior Brotherhood leaders are the victims of politically motivated prosecutions.
Only days before Mr Morsi's first trial in November 2013, three presiding judges stepped down at the trial of Muslim Brotherhood leader Mohammed Badie and his two aides, saying they felt "embarrassment" over the case.
Egyptians fear return to authoritarianism
Egyptians split over Morsi trial

How has Mr Morsi behaved in court?
Mr Morsi has struck a defiant tone in his court appearances, refusing to recognise the legitimacy of the court and insisting that he was still the rightful president. At first, he also refused to wear court uniform and engaged in numerous spats with the judge.
Because of his disruptions to court proceedings, Mr Morsi was put in a sound-proof glass case in court in January 2014 but, along with the other defendants who were in a separate glass case, he turned his back on the judge. Mr Morsi's lawyers walked out of court in protest and the trial was adjourned.
BBC Monitoring reports and analyses news from TV, radio, web and print media around the world. For more reports from BBC Monitoring, click here. You can follow BBC Monitoring on Twitter and Facebook.