Iran nuclear deal: World reaction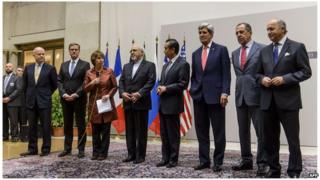 Iran has agreed to halt some of its work on uranium enrichment for six months, as part of a landmark nuclear deal reached with six world powers in Geneva in the early hours of Sunday morning. How has the deal been received around the world?
US: President Barack Obama
"Today, the United States - together with our close allies and partners - took an important first step toward a comprehensive solution that addresses our concerns with the Islamic Republic of Iran's nuclear programme."
Iran: President Hassan Rouhani
"Iranian people's vote for moderation and constructive engagement and tireless efforts by negotiating teams are to open new horizons."
"No matter what interpretations are given, Iran's right to enrichment has been recognised."
Israel: Prime Minister Benjamin Netanyahu
"What was achieved yesterday in Geneva is not a historic agreement but rather a historic mistake."
UK: Prime Minister David Cameron
The deal leaves Tehran "further away from getting a nuclear weapon" and "demonstrates how persistent diplomacy and tough sanctions can together help us to advance our national interest".
Russia: President Vladimir Putin
"The result of Geneva is a win for all, showing once again that by working collectively and with mutual respect it is possible to find answers to current international challenges and threats.
"What has been done is a breakthrough but it is merely the first step on a long and difficult road."
China: Foreign Minister Wang Yi
"The deal will help maintain the world's non-proliferation system and peace and stability in the Middle East, favour normal activities of all parties with Iran, and better the life of the Iranian people."
France: Foreign Minister Laurent Fabius
"After years of blockages, the agreement in Geneva on Iran's nuclear programme is an important step to preserving security and peace."
Germany: Foreign Minister Guido Westerwelle
"The agreement reached in Geneva is a real turning point. Even in very difficult times and after very difficult negotiations we have moved a step closer to our aim of preventing Iran from having nuclear weapons."
Turkey: Foreign ministry statement
"We congratulate Iran and the P5+1 countries for their constructive efforts during the process."
United Arab Emirates
"The cabinet hopes this would represent a step towards a permanent agreement that preserves the stability of the region and shields it from tension and the danger of nuclear proliferation."
Bahrain: Foreign Minister Khalid bin Ahmen al-Khalifa
"We welcome this agreement if it will end the fear of any weapons of mass destruction in the region."
Lebanon: Foreign Minister Adnan Mansour
"Today's agreement between Iran and the West constitutes an advanced step forward for a denuclearised Middle East...
"We call on the Arab nations and the world to pay attention to Israel's nuclear programme comprising a huge arsenal that threatens [the] whole region."
Syria: Foreign Ministry statement
Syria "considers it to be a historic accord which guarantees the interests of the brotherly Iranian people and acknowledges their right to the peaceful use of nuclear energy."
Iraq: Prime Minister Nuri al-Maliki
The agreement is "a major step in the security and stability of the region".
India: Foreign Ministry spokesman
"India welcomes the prospect of resolving questions related to Iran's nuclear programme through dialogue and diplomacy."
Pakistan: Foreign Ministry statement
"The understanding is an important development, which should augur well for peace and security in our region and the world at large."