Syria conflict: Geneva peace talks 'best chance' - US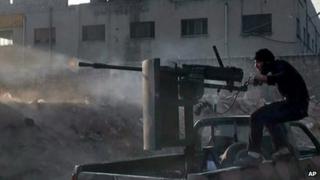 Syrian peace talks planned for January are the "best opportunity" to form a transitional government, US Secretary of State John Kerry has said.
He was speaking shortly after UN Secretary General Ban Ki-moon announced that Syria's government and opposition would meet on 22 January in Geneva.
The UN, US and Russia have been trying for months to get both sides to agree a political solution to the conflict.
But there have been disputes over who should attend the talks in Switzerland.
The Syrian opposition is divided over which groups should represent it in Geneva. But the opposition insists President Bashar al-Assad must resign.
The government in Damascus says there must be no pre-conditions to any peace talks.
More than 100,000 people have been killed and millions have fled Syria since the unrest against Mr Assad began in 2011, according to UN estimates.
'Clear understanding'
On Monday, Mr Kerry said in a statement that the Geneva talks could help end the Syrian conflict.
But he warned: "We are well aware that the obstacles on the road to a political solution are many, and we will enter the Geneva conference on Syria with our eyes wide open."
Mr Kerry added that Washington would "continue to work in concert with the UN and our partners on remaining issues, including which countries will be invited to attend and what the agenda will be".
Earlier on Monday, Mr Ban confirmed that Syria's government and opposition would for the first time attend the peace talks on 22 January.
"The Geneva conference is the vehicle for a peaceful transition that fulfils the legitimate aspirations of all the Syrian people for freedom and dignity," he said.
Mr Ban expected representatives of both sides to come "with a clear understanding" that the goal of the talks was the full implementation of the Geneva Communique, issued after a meeting of the UN-backed Action Group for Syria in the Swiss city in June 2012.
It calls for an immediate cessation of violence and the formation "on the basis of mutual consent" of a transitional government with full executive powers, including over military and security forces, that could include officials serving under Mr Assad and members of the opposition.
Mr Ban also warned all parties that they should also come to Geneva "with a serious intention to end a war that has already left well over 100,000 dead, driven almost nine million from their homes, left countless missing and detained".
"The conflict in Syria has raged for too long. It would be unforgivable not to seize this opportunity to bring an end to the suffering and destruction it has caused."
It was not clear from the statement if Iran would be invited to Geneva, but Mr Ban said he expected "all regional and international partners to demonstrate their meaningful support for constructive negotiations".
Damascus clashes
A spokesman for the Supreme Military Council of the Free Syrian Army, Luay Mekdad, told the BBC that the international community had not as yet created the right atmosphere for the Geneva talks to go ahead.
Earlier this month, the main opposition alliance, the National Coalition, agreed to attend what has become known as the "Geneva II" conference if a number of conditions were met.
Relief agencies would have to be given access to besieged areas and all detainees, particularly women and children, had to be freed, it said. The coalition's leader, Ahmed Jarba, also stressed that the president would "have no role in the transitional period".
The government has said it will "in principle" attend the conference.
However, it has also said it will not negotiate with "terrorists", while dismissing almost all those who oppose it as such. It has also insisted repeatedly that any political solution will not involve Mr Assad's departure.
The BBC's Jim Muir in Beirut says Mr Assad is feeling in a stronger position than he has for a long time and shows no intention of giving up.
In the past month, several towns around Damascus and the second city of Aleppo have been recaptured by soldiers reportedly backed by pro-government militiamen, members of the Lebanese Shia Islamist movement Hezbollah and Iranian Revolutionary Guards.
On Monday, there were reports of heavy casualties on both sides from clashes between government forces and rebels outside Damascus.