Syria conflict: Mortar near Umayyad Mosque kills three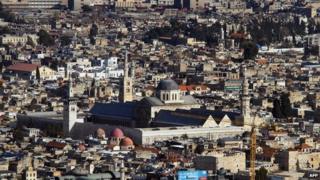 A mortar round has landed near Damascus' historic Umayyad Mosque, killing at least three people.
Several people were also reported injured in the incident at the heart of Damascus's Old City.
The mosque is one of the most renowned sites in the Islamic world, and was a Roman temple and then a church before becoming a mosque in the 7th Century.
Fighting between the army and rebels on the outskirts of Damascus has recently begun to impact on the city centre.
There have been many instances of shells striking the Old City and surrounding areas in recent weeks.
It is not clear who fired the mortar in the latest incident, or what the target was.
The mosque houses a shrine to John the Baptist, also revered as a prophet in Islam, and was the first mosque ever to be visited by a Pope when John Paul II went there in 2001.
The tomb of the legendary Muslim leader Saladin is in the garden next to the mosque.
The UN estimates that more than 100,000 people have been killed in the conflict so far, and that more than nine million have been forced from their homes.
There has also been growing concern at the impact the conflict may be having on Syria's outstanding cultural heritage.
In June, the UN's cultural organisation Unesco added six ancient sites in Syria to its list of endangered World Heritage sites because of the threat from the conflict.
One of the other sites on the list, the Old City of Aleppo, is already known to have suffered extensive damage.
The minaret of it's own Umayyad Mosque - the name refers to one of the early dynasties of Muslim history - was destroyed in April, adding to earlier fire damage to the mosque itself.
Large swathes of the rest of Aleppo's Old City, considered to have been perhaps the best preserved medieval settlement on earth, have also been destroyed.
Earlier this year footage emerged purporting to show tanks stationed in the Roman-era settlement of Palmyra in the Syrian desert, and damage to the ruins there.
The famous Crusader castles, Crac des Chevaliers and Qalat Salah El-Din (Fortress of Saladin), have "been exposed to clashing and gunfire", according to a report by the Syrian authorities given to Unesco earlier this year.