Lebanon army to take control of Tripoli after clashes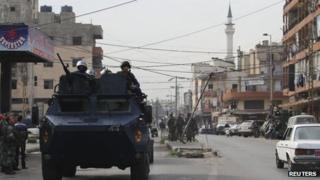 Lebanon's government has told the army to take control of security in the city of Tripoli after 10 people died in two days of fighting.
The army will be in control for six months, Prime Minister Najib Mikati's office said.
The weekend's clashes were sparked by divisions over the conflict in Syria.
The city's Sunni Muslims largely support Syria's opposition, while the Alawite population tend to favour President Bashar al-Assad.
The clashes also left 49 people wounded including 11 soldiers, a security source said.
Tripoli, with a small Alawite community surrounded by a Sunni majority, is seen as one of Lebanon's most volatile sectarian fault-lines.
President Assad is an Alawite and is fighting a Sunni-led revolt.
Correspondents say tensions have been high since last week, when residents of the Alawite district of Jabal Muhsin began flying Syrian flags in support of President Assad.
In response, residents of the neighbouring Sunni district of Bab al-Tabbana raised the flag favoured by Syrian rebels.
Clashes broke out on Saturday, leaving at least six dead, and continued into the night.
On Sunday, at least four people were hit by sniper fire, including an off-duty soldier and two people in a lorry.
On-off fighting between the two districts has claimed scores of lives over the past two years.