Hagel: US military power must back Iran nuclear deal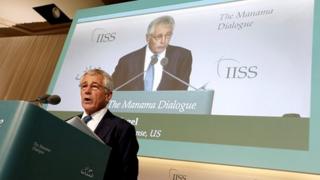 Diplomacy with Iran must be backed by military power, US Defence Secretary Chuck Hagel has said.
Mr Hagel, speaking in Bahrain, said Washington was committed to maintaining a strong force in the Gulf region.
Iran recently agreed to curb some nuclear activities for six months in return for sanctions relief.
Analysts say Washington's Gulf Arab partners are worried the US will lose focus on the Middle East as it boosts its presence in Asia.
Mr Hagel told the Manama Dialogue - a regional security forum - the US has more than 35,000 military personnel in the region and would not reduce that number.
"We know diplomacy cannot operate in a vacuum," Mr Hagel said.
"Our success will continue to hinge on America's military power, and the credibility of our assurances to our allies and partners in the Middle East."
"Iran has been a profoundly destabilising influence and a nuclear-armed Iran would pose an unacceptable threat to regional and global stability," he added.
Under the interim deal agreed with six world powers in Geneva, Tehran will receive some $7bn (£4.3bn) in sanctions relief while talks continue to find a more permanent agreement.
Although the accord was generally welcomed, Israel said it was a "historic mistake" and some US senators have said it is too soft on Iran.
Mr Hagel said the agreement "bought time for meaningful negotiation, not for deception".
He said US diplomacy would ultimately be backed up by military commitments and co-operation with regional partners.
Heightened tension
"As America emerges from a long period of war, it will not shirk its responsibilities," Mr Hagel said.
"America's commitment to this region is proven. And it is enduring."
Mr Hagel's remarks came at a time of heightened tension between Washington and its Gulf Arab partners.
Saudi Arabia reacted angrily when the US backed down from launching a military strike against Syria in September following chemical weapons attacks near Damascus.
Saudi officials very publicly criticised Washington for what they perceived as its timid approach to the region.
Mr Hagel told the Manama Dialogue that while the US would continue to provide aid to Syrian refugees and the neighbouring countries of Jordan and Turkey, the rise of violent extremism among rebel groups in Syria had to be addressed.
"We will continue to work with partners throughout the region to help bring about a political settlement to end this conflict," he said.
However, he called for efforts to ensure that aid for the opposition "does not fall into the wrong hands."
The Obama administration has signalled a strategic shift in its foreign policy towards the Pacific region, in recognition of China's growing military power.