Media urge Syrian rebels to stop journalist kidnappings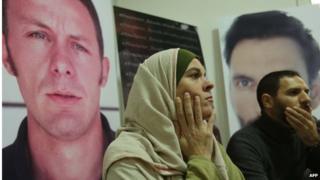 Major international news organisations have urged armed Syrian rebel groups to stop kidnapping journalists, and to free those who are currently held.
The 13 organisations, including the BBC, have signed a letter to the rebels warning that the abductions threaten the coverage of the Syrian conflict.
It is believed that more than 30 journalists are currently being detained in Syria.
Many kidnappings have been downplayed in the hope of aiding negotiations.
On Tuesday the Spanish newspaper El Mundo decided to publicise the abduction of two journalists in Syria in September after indirect communications with their captors led to "no result".
Correspondent Javier Espinosa and freelance photographer Ricardo Garcia Vilanova were seized by the Islamic State of Iraq and the Levant (ISIS) near the Turkish border.
'Limit coverage'
The letter is being sent to the main rebel group, the Free Syrian Army, and others, including the one of the most prominent Islamist coalitions, the Islamic Front.
The authors write that the kidnappings mean that "a growing number of news organisations no longer feel that it is safe for their reporters and photographers to enter Syria and many have decided to limit their coverage of the war".
"As long as kidnappings are permitted to continue unabated, journalists will not be willing to undertake assignments inside Syria, and they will no longer be able to serve as witnesses to the events taking place within Syria's borders," the letter adds.
The Free Syrian Army's "political wing" - the Syrian National Coalition - says it is committed to protecting journalists, and securing the release of hostages.
The organisation Reporters Without Borders says Syria is now the most dangerous country in the world for journalists.