Palestinian shot near Gaza border 'dies of wounds'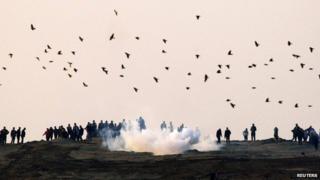 An 18-year-old Palestinian has died of his wounds a day after being shot in clashes with Israeli soldiers near the northern Gaza border, doctors say.
The man, named as Adnan Abu Khater, was wounded by gunfire near the border fence east of Jabaliya on Thursday.
An Israeli army spokesman said had troops opened fire after a group of Palestinians tried to vandalise the fence, throwing stones at soldiers.
The troops gave warnings, then fired at their "lower extremities", she added.
Israel maintains a no-go buffer zone along the perimeter inside Gaza which it says is necessary to prevent militant attacks.
On Friday, Israeli F16 fighter jets carried out a series of air strikes on training posts belonging to militants in Gaza, Hamas security sources said, adding that no injuries or damage were caused.
The raids were in response to a militant rocket attack on southern Israel on Thursday night, according to Israeli Radio.